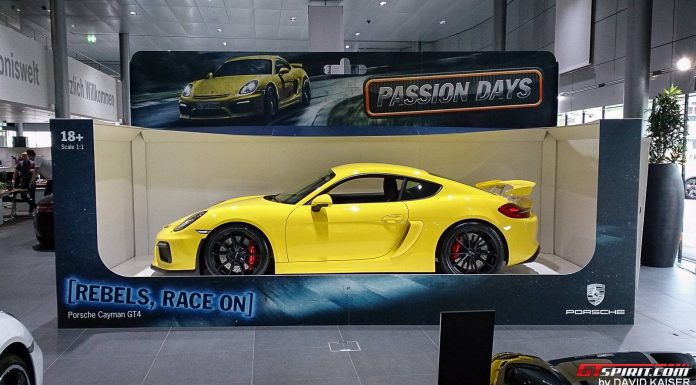 When a new sports car is unveiled at any private viewing around the world, it is normally joined with high-tech visuals and heart-pumping music. At a recently held event at Porsche Zurich however, the German marque decided to present the brand new 2016 Porsche Cayman GT4 in an exceptionally unique way.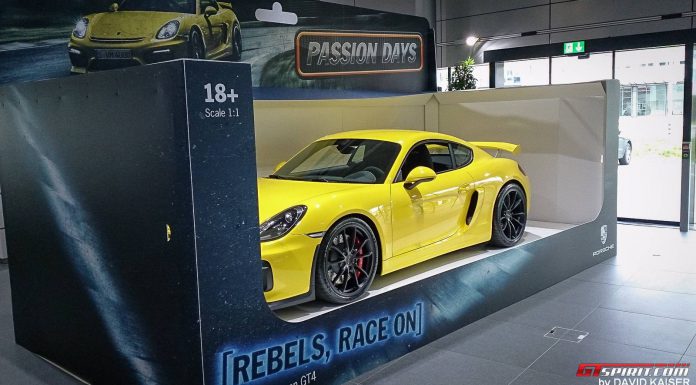 To present the Cayman GT4 to Switzerland after its debut in Geneva, Porsche created a 1:1 scale diecast display box for the sports car effectively presenting it as a life-sized toy. Adorning the box was the slogan 'Rebels, Race On' which is being used worldwide to promote the car. GTspirit's own David Kaiser was fortunate enough to attend the event and snap the following pictures of the car!
As a reminder, the mid-mounted 3.8-litre flat-six engine of the Porsche Cayman GT4 produces 385 hp. Consequently, zero to 100 km/h is dispatched in 4.4 seconds with the car continuing to accelerate through to 295 km/h. As with all Porsche products, the Cayman GT4 is also at home on the Nurburgring having recorded a blistering 7 minutes and 40 second time.
Beyond the uprated engine, the Cayman GT4 also receives a large fixed rear wing together with a reworked front facia and a new rear diffuser.