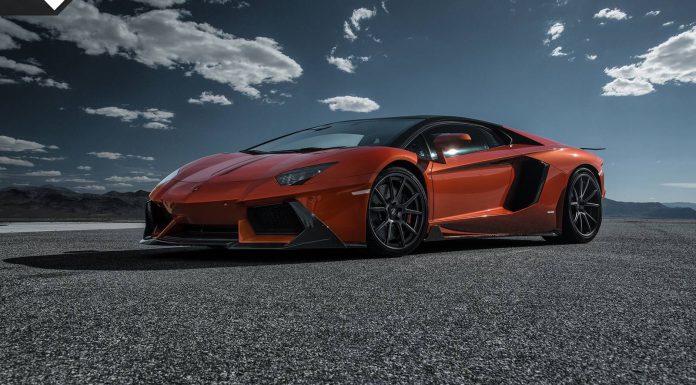 The Lamborghini Aventador-V program offered by Vorsteiner for the Italian mid-engined supercar is one of the most aggressive, classy and comprehensive aerodynamic packages offered for the car. With components made solely from lightweight yet exceptionally strong carbon fibre, the parts included in the Aventador-V program are certainly very eye-catching.
This particular orange Lamborghini Aventador has been installed with the Zaragoza front spoiler as well as the Aventador-V side skirts, Aventador-V rear diffuser and Zaragoza rear wing. When combined with a custom set of Vorsteiner wheels, this particular Aventador would stand out clearly in a pack of any other stock and tuned Lamborghini models.
The Zaragoza rear wing offered by Vorsteiner has been tested at speeds of up to 290 km/h and unlike many other aftermarket spoilers offered for the Aventador, Vorsteiner's doesn't set off any warning indicators. This has been achieved by actually removing the standard rear wing and replacing it with Vorsteiner's own which can also fully retract under the deck lid.