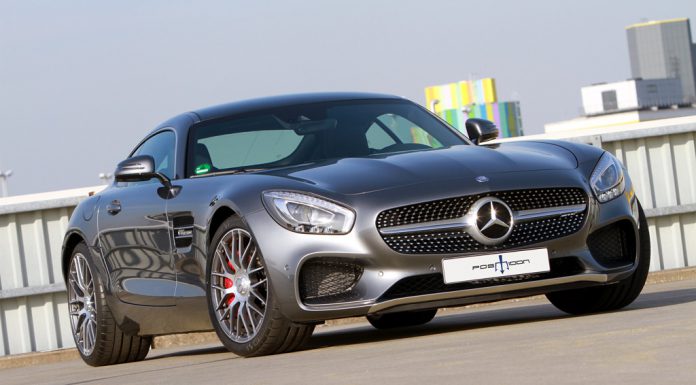 Aftermarket tuner Posaidon has just unveiled its tuning upgrades for both the Mercedes-AMG GT and the new Mercedes-AMG C63 and C63 S. As both cars utilise virtually the same twin-turbocharged 4.0-litre V8 engine, it is little surprise the same upgrades apply for both performance cars.
Typically, the Mercedes-AMG GT and AMG GT S models deliver 462 hp and 510 hp respectively with torque sitting at 600 Nm and then 650 Nm. The Posaidon upgrades lift peak power to 630 hp while torque rises to 725 Nm. Consequently, the Posaidon powered Mercedes-AMG GT powered models are capable of hitting 337 km/h.
As for the Mercedes-AMG C63, it typically produces 476 hp and 650 Nm while the C63 S lifts those figures to 510 hp and 700 Nm. Following the tuner's upgrades however, horsepower rises to 610 with 800 torques also on tap. As a result, the cars will peak out at a 328 km/h top speed.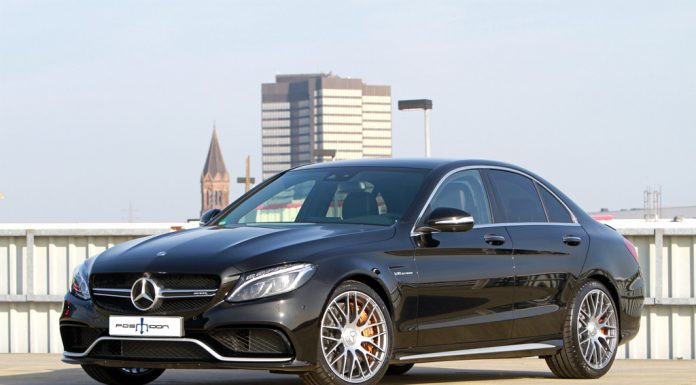 The aforementioned power and torque upgrades achieved for the Mercedes-AMG GT and Mercedes-AMG C63 models are all achieved through simply re-programming of the engine's control unit. Further down the road, Posaidon will offer upgraded turbochargers as well as a number of free-flow exhaust systems and other hardware modifications.
[showhide]
"Press release POSAIDON
Performance tuning for Mercedes-AMG GT/GT S & Mercedes-Benz C63/C63 S
POSAIDON: Power upgrades for the C63 AMG and AMG GT
Recent highlights for performance car enthusiasts have been AMG's second sports car, the AMG GT and its GT S variant, quickly followed by the W205 C63 in standard and S forms.
Both vehicles are powered by a version of AMG's new 4.0-liter twin-turbo V8 engine, differentiated by the nature of their lubrication. The M178 version in the AMG GT has dry sump lubrication, while the M177 that powers the C63 AMG uses a conventional wet sump system.
POSAIDON is one of the first tuners to offer power upgrades for AMG's new performance stars. Significantly, this has been achieved through direct re-programming of the original engine control unit with no additional external boxes.
In standard trim, the AMG GT has 462 hp and 600 Nm of torque, while the more powerful S version has 510 hp and 650 Nm. The POSAIDON conversion brings either model up to 630 hp with 725 Nm of torque, for a 337 km/h top speed.
Out of the box, the C63 AMG has 476 hp and 650 Nm of torque, with 510hp and 700Nm in S form. The POSAIDON ECU remap takes this to a rousing 610 hp with 800 Nm of torque, which rockets the flagship C-Class to 328km/h.
The lower peak torque figure quoted for the POSAIDON-tuned AMG GT compared to their C63 AMG is down to the different gearboxes. The AMG SPEEDSHIFT DCT 7G dual-clutch transmission in the AMG GT/GT S has a lower torque capacity, so POSAIDON limits the maximum twist to 725 Nm. As the AMG SPEEDSHIFT MCT 7-speed sports transmission in the C63/C63 AMG S will handle up to 1,000 Nm, there is a lot more leeway here.
While this first tuning step already brings incredible performance to the two newest V8-powered AMG models, the POSAIDON engineers are working on further upgrade stages for the M177 and M178 engines using modified turbochargers, free-flow exhaust systems and some other hardware changes.
In standard form, the ECO start-stop function is only disabled in Sport and Sport+ modes. POSAIDON offers the driver the option to switch it off in any mode at the touch of a button.
To maximise driver safety, POSAIDON offers a speed camera warning system for the AMG GT, C63 AMG and other Mercedes-Benz models, that integrates with the factory COMAND Online, or Garmin MAP pilot navigation systems."
[/showhide]