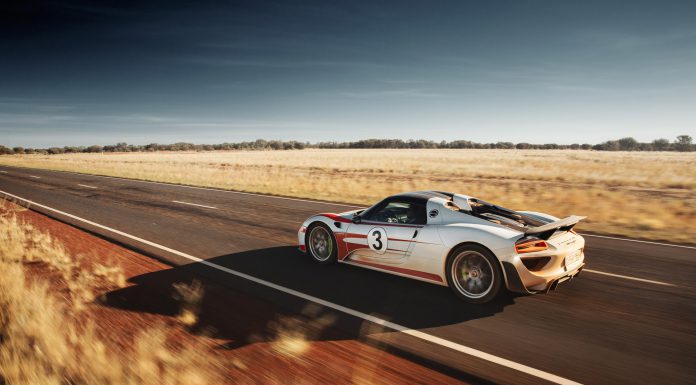 A rare Porsche 918 Spyder Weissach has recently been in Australia for a number of promotional purposes by the German marque. As the hybrid hypercar isn't available for sale Down Under, it may be a very long time before another 918 Spyder touches Australia's roads.
Not long after hitting the Phillip Island circuit and setting an unofficial production car lap record, this eye-catching 918 Spyder headed to the Stuart Highway in Australia's Northern Territory which doesn't feature any speed limits.
[youtube]https://www.youtube.com/watch?v=M68VE61mTyY[/youtube]
As part of the stunt, the 918 Spyder was driven on pure electric power for the 25 km journey out of Alice Springs before reaching the unrestricted stretch of road. Once there, it managed to reach a remarkable 350 km/h with a professional driver behind the wheel on the narrow two lane road.
As a reminder, the headline for the Weissach Package is improved performance. From zero to 100 km/h takes just 2.6 seconds, 0.2 seconds faster than the standard model. It takes just 7.2 seconds to travel from zero to 200 km/h in 7.2 seconds (a 0.5 second reduction), and 19.9 seconds to pass the 300 km/h mark (a 2.1 second reduction).
Under the hood, it features the same powertrain as the standard 918 Spyder. That is a mid-mounted 4.6-litre V8 engine producing 608 hp independently – the highest specific power of any naturally aspirated Porsche engine. The V8 is then supplemented by a further two electric motors mounted on each axle. The electric motors can either drive the wheels independently or work together with the engine to boost performance. Each motor produces enough power to boost the total figure to an amazing 887 hp. A seven-speed Porsche Doppelkupplung (PDK) transmission controls power delivery to all four wheels.