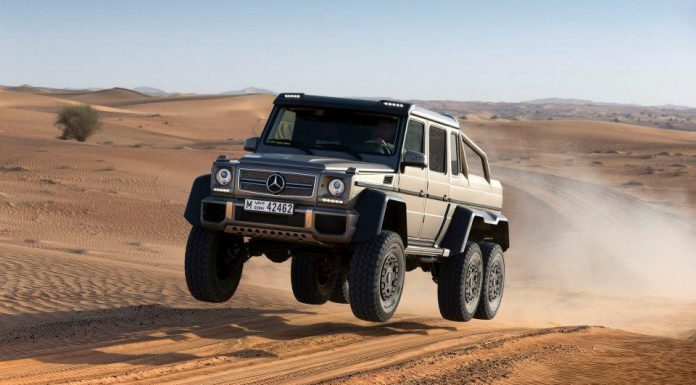 After we exclusively revealed that the Mercedes-Benz G63 AMG 6×6 had sold out in February, it has been confirmed that production of the extreme offroader finished this week. This comes despite previous suggestions that the final example would leave the G-Class factory next month.
A specific production number isn't known but it has been previously confirmed that over 100 examples of the G63 AMG 6×6 were sold around the world. Additional examples of the car could have been sold but Mercedes-Benz decided to restrict sales to maintain the vehicle's exclusivity.
When the G63 AMG 6×6 first hit the market, it was one of the firm's most expensive models only behind the Mercedes-Benz SLS Electric Drive with a starting price of 379,000 euros.
In case you didn't know, the car gets its origins form the C320 CDI developed specifically for the Australian army recently and measures an incredible 5867 mm long, 2111 mm wide and 2209 mm tall. What these figures mean is that the Mercedes-Benz G63 AMG 6×6 is an impressive 43.5 inches longer than the standard car.
Beyond the addition of two extra wheels and an additional axle has well as a completely new body incorporating flared arches, the G63 AMG 6×6 uses the same 5.5-litre twin-turbocharged V8 engine coupled with a seven-speed transmission like the more run-of-the-mill G63 AMG. As a result, it delivers an identical 536 hp and 560 lb-ft of torque. Drive is sent to all six wheels meaning the off-roader can reach 100 km/h in an impressive 6 seconds and a limited top speed of 160 km/h.