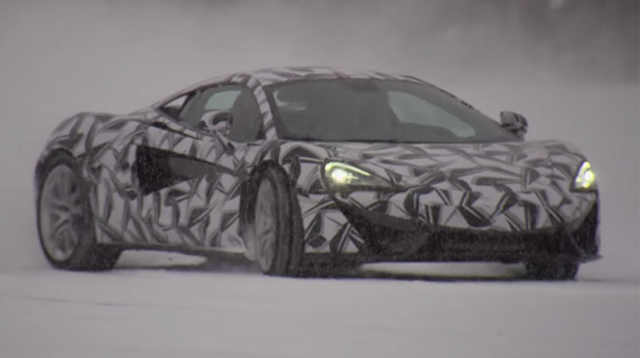 A video showing numerous official driving shots of the brand new McLaren 570S sports car has been released. The clip shows a couple of prototypes testing at the racetrack as well as on the snow during the car's ongoing development programme. The video also provides us with our first chance to hear how the 570S sounds when being driven to its limits.
[youtube]https://www.youtube.com/watch?v=ZvVgKDcCiv0[/youtube]
Beneath the skin, the McLaren 570S Coupe uses a 3.8-litre twin-turbocharged V8 with 564 hp. As a result, the 570S Coupe can hit 100 km/h (62 mph) in 3.2-seconds, while 200 km/h (124 mph) is reached in a very impressive 9.5-seconds with the pace not letting up till the car reaches a top speed of 328 km/h (204mph).
The engine has been branded the M838TE with E standing for Evolution as 30 per cent of the car's engine is bespoke. Linked to the engine is a seven-speed SSG transmission that promises to be quick and smooth. Stopping power should be just as impressive courtesy of standard-fit carbon ceramic brakes, fitted behind a newly designed range of forged alloy wheel options shod, as standard, with Pirelli P Zero Corsa tyres.