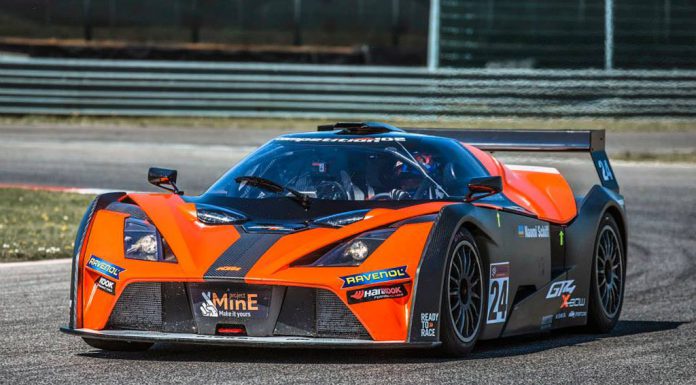 A plethora of new images of the extreme KTM X-Bow GT4 race car have been released as the car recently wrapped up a round of on-track testing.
The KTM X-Bow GT4 has been developed in conjunction with Reiter Engineering with Reiter charged with the construction of all X-Bow GT4 models. Additionally, Reiter handles the sales and supply of spare parts for the car.
Despite being previewed back in early February, specific details about the KTM X-bow GT4 remain unclear. For starters, it isn't known how much power it delivers but the engine used is speculated to be the same Audi unit use by the road-going KTM X-Bow. Whatever the case may be, the racer has been created for racing in the GT4 category and can be ordered for 139,000 euros.
When initially discussing the car at its early February launch, Reiter Engineering owner Hans Reiter said "First of all I have to compliment all those who have been involved at KISKA, at KTM Technologies and the KTM Sportcar GmbH who have all worked without a break, just as my own people have really done a perfect job in the shortest possible time. We are now in the end phase and if we can keep almost exactly to our self imposed, extremely tight schedule, it is looking good. In keeping with this program, the first tests are planned in mid to late February."