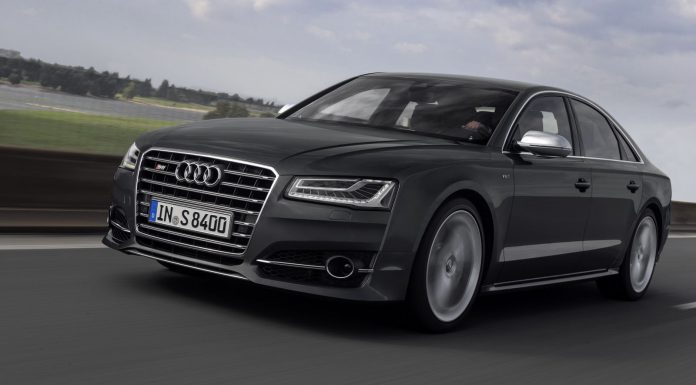 After it recently emerged that the reveal of the next-generation Audi A8 has been delayed, further details about the new A8 and S8 models have emerged courtesy of a German media outlet.
Auto Bild suggests that beneath the skin, the next-generation Audi A8 will be available with a turbodiesel V6 engine pumping out 286 hp and 458 lb-ft of torque. This engine will reportedly supersede the 3.0-litre TDI available in the A8 and delivering 258 hp and 620 Nm. Elsewhere, a plug-in hybrid variant utilising a turbocharged V6 petrol engine will also be offered for the A8 and mated to an eight-speed automatic transmission.
GTspirit Review of 2014 Audi S8

Audi is also pinned to update its 6.3-litre W12 engine and will apparently do so by decreasing the displacement to 6.0-litres. Despite its smaller size, an additional 85 hp could be found bringing the total figure to 585 hp while torque could also rise by 175 Nm to 800 Nm. As with the aforementioned turbodiesel V6, this engine is expected to be paired with a nine-speed automatic gearbox driving all four wheels.
Topping out the next-generation Audi A8 range will remain the S8. It should utilise a twin-turbocharged 4.0-litre V8 delivering 580 hp and 800 Nm rather than the 520 hp and 650 Nm offered by the current car. As a result, performance will be slightly improved.
[Via Auto Bild]