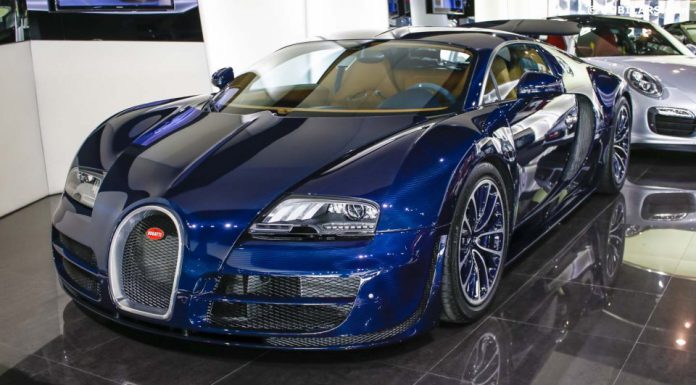 A spectacular blue carbon fibre Bugatti Veyron Super Sport has just been sold in Dubai courtesy of exotic car dealership Al Ain Class Motors. This particular Veyron Super Sport is a 2011 example and certainly one of the most eye-catching Veyrons we've ever seen.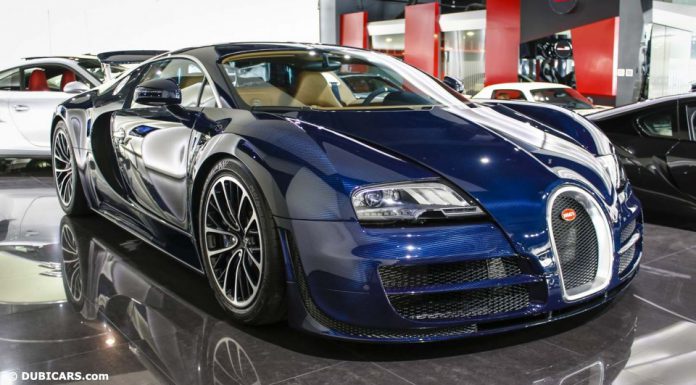 While it remains to be seen how much it sold for, it has only covered 1900 km meaning it is essentially brand new. With that in mind, the tinted blue carbon fibre finish across the car looks to be in perfect condition with everybody panel completed in the custom and inevitably ultra-expensive finish. On the body itself, the only parts which aren't blue carbon fibre is the front grille surround as well as the aluminium petrol cap and two silver strips running from the A-pillars through to the rear bumper.
As for the wheels, they include silver spokes and a silver outer rim with thin, dark blue spokes also featured. Hiding behind the wheels are bright blue brake calipers. The cabin is then adorned in brown leather across the seats, centre console, roof lining as well as the A and B-pillars. Black leather elements are also present particularly on the door panels.
Powering the Bugatti Veyron Super Sport is of course an 8.0-liter quad-turbo W16 engine lifted from the regular Bugatti Veyron (if there's such a thing). However, in Bugatti Veyron Super Sport guise, this spectacular powerplant now produces an insane 1200 hp and will consequently result in the Super Sport to sprint to 100 km/h in just 2.5 seconds and onto its record-setting top speed of 430 km/h.