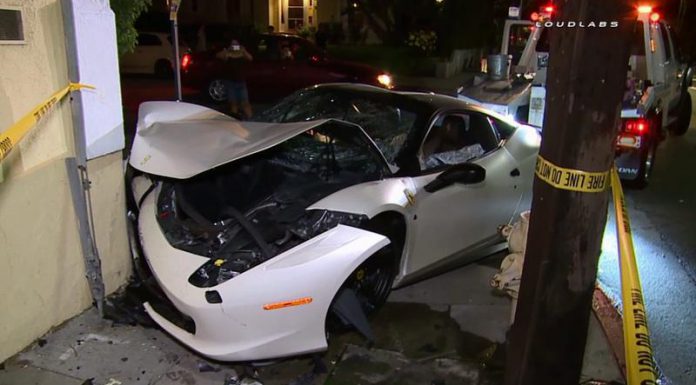 A Ferrari 458 Italia has been left totalled after crashing in Hollywood recently while reportedly drag racing a Porsche.
It is suggested that in the midst of an illegal drag race, both the Ferrari 458 Italia and Porsche approached slower moving traffic. At this time, the driver of the 458 reportedly lost control and careened into an apartment block after swerving off the road and up the footpath.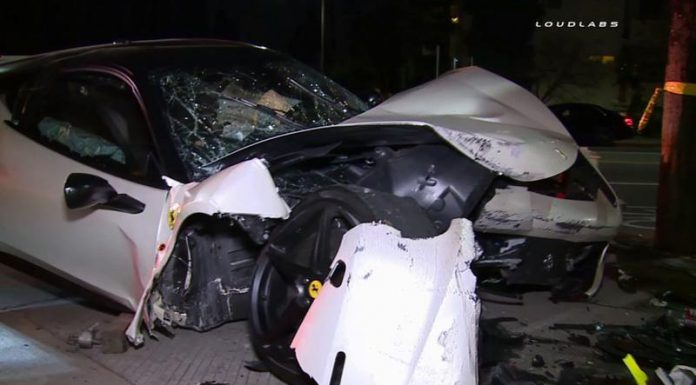 Based on the damage sustained to the 458, it seems apparent that the impact took place at high speed with the front end absolutely destroyed. As a matter of fact, the front has been crumpled with the bonnet, bumper and quarter panels almost unrecognisable. The front passenger side wheel has also been badly damaged indicating that the suspension and braking components are also broken.
According to local police forces, the Porsche driver stopped and argued with the Ferrari driver before driving off. The Ferrari driver only suffered injuries to his wrists.
[Via Loud Labs]