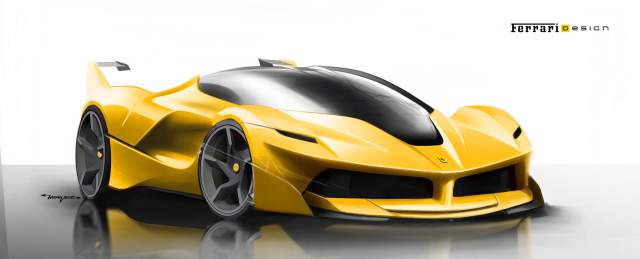 A video as well as a number of drawings have been released showing the design process behind the insane Ferrari LaFerrari FXX K. Designed as the Italian firm's most hardcore track car available to customers, the LaFerrari FXX K is not only exceptionally fast but the recent recipient of the Red Dot Best of the Best design award.
[youtube]https://www.youtube.com/watch?v=spMpf1Pve6Q[/youtube]
While the LaFerrari FXX K does share a similar figure to the road-going LaFerrari, all of its body panels are new with a seemingly endless array of additional aerodynamic components also found across the exterior. Certainly some of the most eye-catching elements are the prominent front splitter, the unique dual rear wing design, the bold and aggressive rear diffuser as well as the new headlights and taillights.
Beneath the skin, the LaFerrari FXX K features a tuned version of the LaFerrari's 6.3-litre V12 engine and electric motor powertrain. Rather than the 950 hp delivered by the road car, the LaFerrari FXX K produces a potent 1021 hp and over 664 lb-ft of torque. Of that power, 835 hp comes from the naturally-aspirated V12 while the remaining 188 hp comes from the upgraded electric motor. Mated to this potent powertrain is a seven-speed paddle-shift dual clutch transmission.
To achieve the extra power, the V12 has been installed with new camshafts, revised intake manifolds, a redesigned valve train as well as mechanical tappets. Elsewhere, the exhaust system has been changed while the HY-KERS system now provides four different driving modes. These are Qualify Mode, Long Run, Manual Boost and Fast Charge.