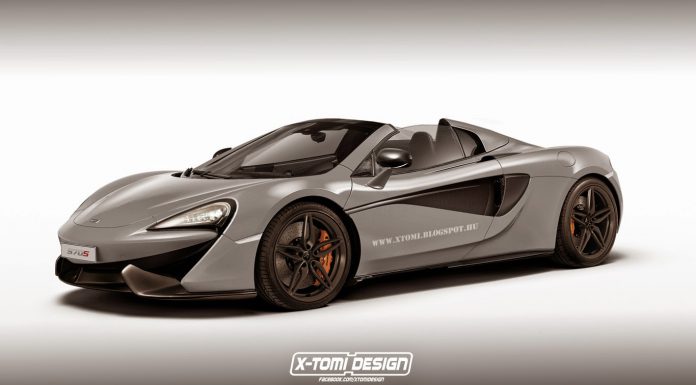 Even before the McLaren 570S debuted at the New York Auto Show 2015, it was being reported that in excess of seven variants could be offered in the McLaren Sports Series range. With that in mind, X-Tomi Design has decided to render how a McLaren 570S Spider could look.
As with typical high-end performance-oriented convertibles in the modern world, it seems inevitable that the McLaren 570S Spider will weigh almost the same as the coupe with the stiff carbon fibre monocell holding everything together. As a result, the car should be almost as rigid as the coupe.
Beneath the skin, the McLaren 570S Spider will inevitably feature the same engine as the coupe. That engine is a 3.8-litre twin-turbocharged V8 with 564 hp. As a result, the 570S Coupe can hit 100 km/h (62 mph) in 3.2-seconds, while 200 km/h (124 mph) is reached in a very impressive 9.5-seconds with the pace not letting up till the car reaches a top speed of 328 km/h (204mph).
[Via X-Tomi Design]