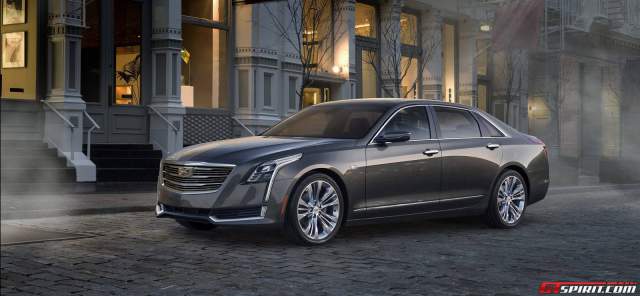 Following the launch of the long-awaited 2016 Cadillac CT6 at the New York Auto Show 2015, it has emerged that a hybrid variant of the luxury sedan could launch at this month's Shanghai Auto Show 2015.
Specific details about the hybrid Cadillac CT6 aren't known with it currently unclear whether or not the car will be a plug-in hybrid. With that being said, the Mercedes-Benz S-Class hybrid is a plug-in so it seems Cadillac will adopt the same technology considering the CT6 has been created specifically to rival the S-Class as well as the BMW 7-Series and Audi A8 range.
After confirming that work is indeed progressing on a hybrid Cadillac CT6, the product chief of General Motors said to Autoblog "We've really got to wait until we finish rounding out the portfolio. The Shanghai show is where you should look for all of it. So stay tuned."
As it stands, the base engine powering the Cadillac CT6 is a 2.0-litre four-cylinder turbocharged unit delivering a total of 265 hp. Next up is the recently announced 3.6-litre naturally-aspirated V6 pumping out a total of 335 hp while the top of the range engine is a twin-turbocharged 3.0-litre V6 with 400 hp and 400 lb-ft of torque on tap. Although unconfirmed, reports suggest that a V8 will also be offered to rival AMG powered S-Class models. All of the three aforementioned engines confirmed so far are mated to an eight-speed automatic transmission which drives all four wheels in the Cadillac CT6 V6 models.
Underpinning the 2016 Cadillac CT6 is the aluminium Omega platform helping to contribute to an overall weight less than 3700 pounds. To put that into comparison, the six-cylinder powered Audi A8 tips the scales at 4365 pounds. Measurements wise, the CT6 is 204 inches long while utilising a 122.4 inch wheelbase. Those figures mean that it is 1.3 inches short than the BMW 7-Series. Returning to the weight figure, Cadillac claims that the CT6 is actually lighter than the BMW 5-Series, 6-Series and Mercedes-Benz E-Class despite all of those cars being in a class below the CT6 and smaller in size.
[Via Autoblog]