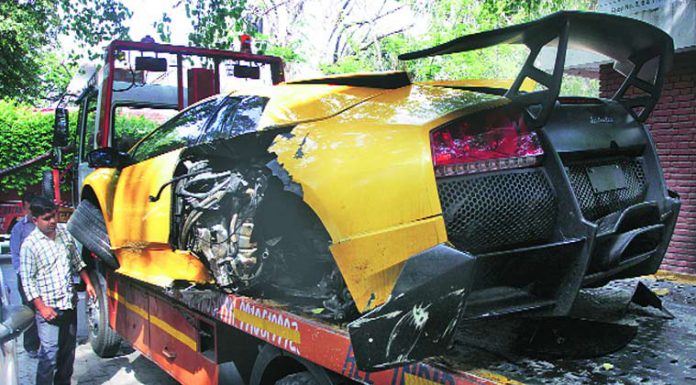 Sad news out of India tonight as we report on a hit and run accident which appears to have taken place in Dehli involving a Lamborghini Murcielago LP670-4 SV. The circumstances surrounding the accident are yet to be fully explained, however, it seems as though this particular LP670-4 SV will not be cruising Dehli streets any time soon.
The Lamborghini Murcielago LP670-4 SV was found in this condition at the Copernicus Marg divider with no sign of the owner or driver. It appears as though the driver lost control of the supercar, crashing into the central reservation at high speed before making off on foot.
[youtube]https://youtu.be/VgnP34rHvMg[/youtube]
News reports suggest that the driver removed the license plates before leaving the scene of the crash site, presumably to make identification of the owner more difficult. Quite aside from the fact there can't be too many LP670-4 SV's on the streets of Dehli, Indian media suggests that the driver left registration papers in the glove box. Reports say that the owners bodyguards later turned up at the crash side and spoke to authorities.
The car was taken to Tilak Marg police station after its recovery from the crash site. The wreckage will presumably be examined for evidence and stored while the police investigate the incident. The rear end has been badly damaged. The rear wheel has been removed completely with the rear fender gauged open, the front left side wheel has been bent and there is possible further damage to the front.
A police official is quoted as saying:
"Somebody must have taken the sports car for a late-night spin as the roads are usually deserted and stepped on the gas not knowing its extreme acceleration capabilities."