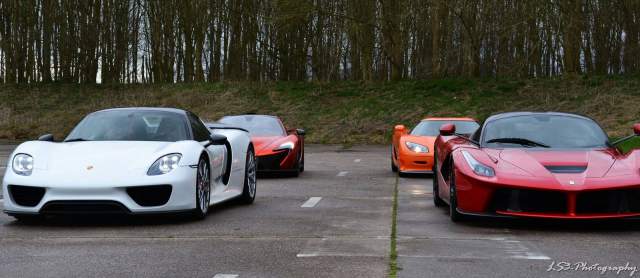 Lets face it, we've all been there, whether it be in the pub or the playground, everyone has argued over what is fastest? A Lamborghini Aventador or a McLaren MP412C? A Mercedes C63 or a BMW M6? Normally this would be left to assumptions and manufacturers' claimed performance, however there is such an event where actions speak much louder than words.
Throughout the year Vmax200 hold private top speed events at various locations within the UK, all speeds verified with laser traps and GPS systems. Each event has its own theme, from their flagship "Hypermax" where some of the most sought- after cars are put through their paces, to "Nine Eleven", where, as the name would suggest, Porsche's finest go head to head to see who is the fastest of the day.
This past weekend saw their latest event "Stealth", which, after the line-up of cars was announced, should have been renamed to "Where Top Gear failed", as the fabled trio of McLaren P1, Porsche 918 and Ferrari LaFerrari were to be in attendance. Along with a who's who of the supercar world, including Koenigsegg Agera & CCX, Lamborghini Aventador & Huracan, Ferrari Enzo, McLaren MP412C, Porsche 911s, Audi R8 V10, Noble M600, Nissan GTRs and a host of Mercedes AMGs.
With typical British weather trying its best to put a dampener on proceedings, the less-than-ideal conditions were capping the speeds to around 180-190mph, then slowly but surely as the morning's action played out the top speeds were increasing. "Huracan 200" followed quickly by "White GTR 202" we heard over the walkie talkie.
As the runway began to dry out, two special cars stepped up to test their mettle. First a Lamborghini Gallardo Superleggera, which was sporting an UNDERGROUND RACING decal on the side of the car. After speaking with the driver it became clear this is the first UGR TwinTurbo Gallardo in the UK and running a simply mind-blowing 1500bhp when on race fuel. The second car needing no introduction at all – the now legendary Bugatti Veyron.
With track conditions ever improving it was now time, time to finally see which of these latest breed of Hybrid Supercar was the fastest. Below is a breakdown of the cars 200mph and over.
Bugatti Veyron – 224mph
Porsche 9EXX – 216mph
UGR Gallardo – 215mph
Nissan GTR – 207mph
Ferrari LaFerrari – 206mph
Aventador – 205mph
Porsche 918 – 204mph
Porsche 918 Spyder – 202mph
Huracan – 202mph
Noble M600 – 201mph
Porsche 918 – 200mph
Koenigsegg CCX – 200mph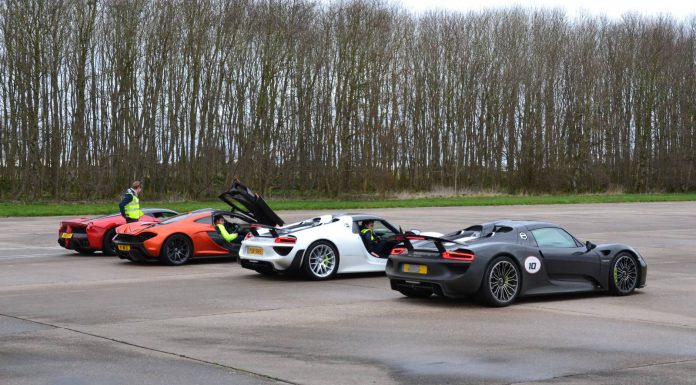 So there we have it, the latest technology of the LaFerrari, P1 and 918 could not topple the Veyron from its renowned position as one of the fastest cars in the world. For future event information head over to Vmax200 for details of how to enter this high adrenaline 200+ club.