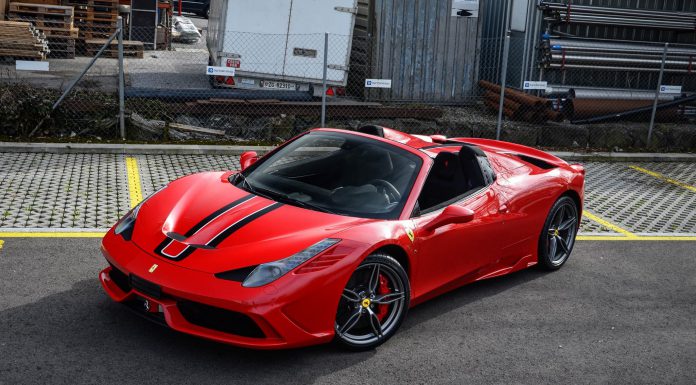 The Ferrari 458 Speciale A (Aperta) will long be remembered as the Italian marque's final naturally-aspirated V8 supercar. With that mantle, it seems inevitably that the hardcore convertible Ferrari 458 Italia will become a valuable collector's car and continue to rise in value in the coming decades. With that in mind, each and every 458 Speciale A produced is extremely special none more so than this example from Zurich.
As our latest Photo Of The Day shows, this Ferrari 458 Speciale A is painted in Rosso Corsa and features the optional racing livery which consists of two black racing stripes running down the centre of the car. Elsewhere, the yellow Scuderia Shields have been fitted to the sides as have bright red brake calipers.
In case you didn't know, the 4.5-litre V8 of the 458 Speciale A delivers 597 hp and 540 Nm of torque at 6000 rpm. All this power means the Speciale A sprints from 0-100 km/h in just 3.0 seconds, the same as the Speciale Coupe, and has a Fiorano lap time of 1 minute 23 seconds, again identical to the Coupe. The Speciale A is the most aerodynamically efficient topless Ferrari ever made and it sure looks fantastic with the two beautifully crafted buttresses behind the occupants heads.