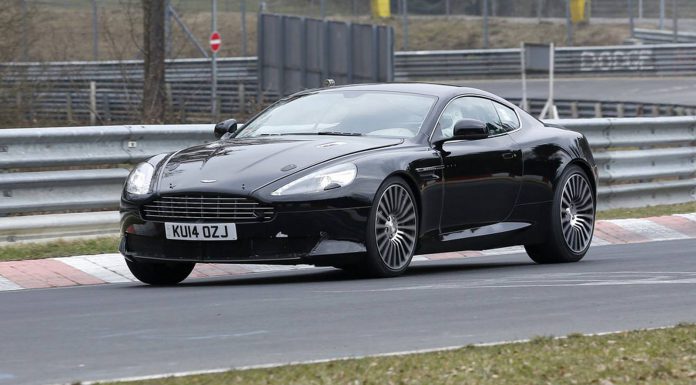 After a number of next-generation Aston Martin DB9 spy shots were posted online, additional details about the upcoming British performance car have been revealed.
Most significantly, it is suggested that the DB9's successor won't make use of an AMG-sourced engine despite Aston Martin's engine and electrical deal with Mercedes-AMG. Instead, Car Magazine suggests that the next DB9 will retain the V12 of the current car albeit with the inclusion of a turbocharger. Additionally, the displacement is expected to drop from 6.0-litres with the use of forced induction making up for the smaller engine to boost power beyond the current 517 hp and 458 lb-ft of torque.
Beyond providing additional power, the turbocharger will help improve the DB9's fuel efficiency with a relatively significant improvement over the current model's 18.9 mpg return figure likely. Alongside the V12, Car Magazine reports that the new Aston Martin DB9 will also be made available with a V8. This will be similar to the Bentley Continental GT which can be optioned with a W12 or a V8.
That V8 is expected to come from AMG and will likely be the firm's recently released 4.0-litre twin-turbocharged unit from the AMG GT and W205-generation C63 AMG.
Elsewhere, it is suggested that the new DB9 will utilise a brand new platform set to contribute to a significant weight loss over the current 1785 kg car. The name Aston Martin DB11 could also be adopted.
[Via Car Magazine]