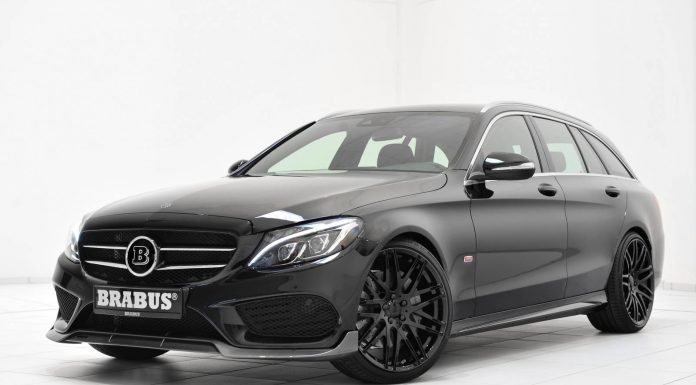 Brabus has just unveiled its range of upgrades for the recently released W205-generation Mercedes-Benz C-Class Estate. As always, Brabus has focused on all aspects of the German estate from the exterior styling through to mechanical and interior modifications.
On an engine front, Brabus offers tuning kits for the full range of Mercedes-Benz C-Class Estate variations. For starters, the Brabus PowerXtra B25.2 kit is offered for petrol powered C-Class Estate models with it adding an additional 34 hp and 37 lb-ft of torque resulting in 245 hp and 295 lb-ft. As a result, the Estate models in question can hit 100 km/h in 6.5 seconds as well as a new and improved 250 km/h top speed.
For buyers not looking for such significant power and torque gains, the Brabus PowerXtra B18.2 kit is offered. It adds 21 hp and 37 lb-ft to the C180 Estate while providing an additional 41 hp and 22 lb-ft to the C200 Estate. Brabus also has diesel C-Class Estate owners in mind and offers the Eco PowerXtra D4 tuning package for the C250 BlueTec model. It adds 31 hp and 37 lb-ft resulting in 232 hp and 405 lb-ft of torque meaning the 100 km/h time is reduced to 6.4 seconds.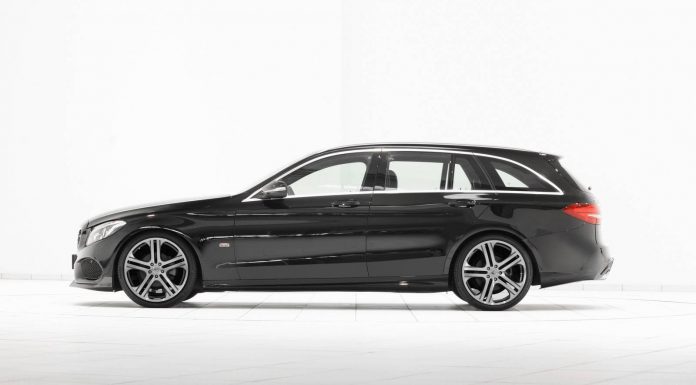 Elsewhere, Brabus offers an extensive exterior package for the Mercedes-Benz C-Class Estate. At the front, owners can order a bold and aggressive splitter while a new rear diffuser is also available. Additionally, a number of Brabus monoblock wheels are offered in 18, 19 and 20 inch sizes. The C-Class Estate pictured features wheels that are 20×8.5 and 20×9.5 at the rear. Brabus also offers new sports springs developed with Bilstein for the C-Class Estate to drop the ride height by about 30 mm.
Inside of the Brabus Mercedes-Benz C-Class Estate you will find aluminium pedals, new floor mats as well as additional leather and alcantara trim.
[showhide]
"Sporty-elegant, exclusive and powerful:
BRABUS refines the new Mercedes C-Class Wagon
Sporty-elegant, exclusive and powerful: these three attributes perfectly describe the BRABUS refinement program for the new Mercedes C-Class Wagon.
As always, BRABUS (Brabus-Allee, D-46240 Bottrop, phone + 49 / (0) 2041 / 777-0, fax + 49 / (0) 2041 / 777 111, internet www.brabus.com) offers a
wide range of options that leaves nothing to be desired: a sporty-elegant aerodynamic-enhancement program for all design and equipment lines and
tailor-made alloy wheels with diameters of up to 20 inches lend the wagon an even more exciting appearance. Engine tuning for the various gasoline
and diesel models and options for the suspension offer even more driving fun. Custom interior design rounds out the product lineup for the S 205
model series.
Mercedes-Benz offers the new C-Class Wagon in various design and equipment lines: standard specification, AVANTGARDE, EXCLUSIVE and AMG Line. BRABUS
has tailor-made bodywork components for all versions, manufactured in OEM quality from high-grade PUR.
The photo shows a vehicle with AMG Line body styling, which is upgraded with a BRABUS front spoiler with markedly sporty design. It fits both the
wagon and the sedan, and attaches to the lower section of the bumper. With its central spoiler blade and outer sections shaped like flaps, the BRABUS
front spoiler, which in this case is painted titanium gray, lends the wagon an even more striking face while reducing aerodynamic lift on the front
axle at high speeds for further enhanced handling stability.
Another sporty BRABUS design element on this car is the diffuser-look rear bumper insert, likewise painted in contrasting color. It provides the
perfect backdrop for the four chrome-plated tailpipes of the BRABUS sports exhaust system.
BRABUS Monoblock wheels, which can be mounted on all C-Class sedans and wagons in various designs and with diameters of 18, 19 or 20 inches, also
play a crucial role in the exciting BRABUS look. This particular wagon runs on BRABUS Monoblock F cross-spoke wheels of sizes 8.5Jx20 at the front
and 9.5Jx20 on the rear axle. The wheels were painted black and refined with titanium-colored pinstripes to match the BRABUS bodywork conversion. The
optimal high-performance tires of sizes 225/35 ZR 20 and 255/30 ZR 20 are supplied by BRABUS technology partners Continental, Pirelli and YOKOHAMA.
The BRABUS sports suspensions with a sporty-comfortable setup and sports springs were developed jointly with BILSTEIN and are calibrated to the use
with these sporty low-profile tires. The sports springs were adapted perfectly to the production shocks and lower the ride height of the C-Class by
about 30 millimeters. The sportiest available version is a BRABUS coilover suspension with adjustable ride height that can be set to the customer's
preferences. What's more: the shock absorbers also feature ten-stage adjustable compression and rebound rates.
A BRABUS control module is available for C-Class models equipped with AIRMATIC air suspension ex-factory to enable lowering the ride height of the
vehicle.
BRABUS offers the world's most extensive engine tuning program for Mercedes-Benz automobiles. Like all BRABUS components, the performance kits are
backed by the one-of-a-kind BRABUS Tuning Warranty® of three years, up to 100,000 kilometers/62,000 miles (see BRABUS Warranty Terms and Conditions,
updated July 2013). BRABUS recommends high-performance lubricants from MOTUL.
The latest performance kit for the gasoline models of the C-Class is called BRABUS PowerXtra B25.2. The installation of the plug-and-play tuning
module takes less than an hour. Modified engine mapping bumps rated output by 25 kW / 34 hp (34 bhp) while peak torque grows by 50 Nm (37 lb-ft).
With a new power output of 180 kW / 245 hp (241 bhp) and a new peak torque of 400 Nm (295 lb-ft), the sprint time from 0 to 100 km/h (62 mph) is
shortened to 6.5 seconds while top speed increases to 250 km/h (155 mph).
Like all BRABUS PowerXtra performance kits, this tuning kit was designed to reliably prevent any decrease in the engine's service life. The
performance-enhancing mapping is only active once all parameters such as engine temperature etc. are in the green. It goes without saying that the
engine complies with strict EURO VI emission standards even after installation of the tuning kit.
BRABUS performance kits are also available for the other four-cylinder turbocharged gasoline models: under the BRABUS PowerXtra B18.2 label an extra
15 kW / 21 hp (21 bhp) and 50 Nm (37 lb-ft) more torque are available for the C 180. The four-cylinder turbocharged engine of the C 200 gasoline
model adds 30 kW / 41 hp (40 bhp) and 30 Nm (22 lb-ft) of torque with the BRABUS PowerXtra B20.2 performance kit.
Modern diesel engines such as those in the current Mercedes C-Class also harbor dormant reserves that can be unleashed safely with professional
BRABUS engine tuning. And thanks to compliance with strict EURO VI emission standards, it can all be done with an absolutely clean environmental
conscience.
The plug-and-play BRABUS ECO PowerXtra D3 kit can be installed by any specialist workshop and boosts power output of the Mercedes C 220 BlueTEC by 26
kW / 35 hp (35 bhp) while bumping peak torque by 50 Nm (37 lb-ft). With a sprint time of just 7.1 seconds from 0 to 100 km/h (62 mph) and a top speed
of 240 km/h (149 mph), the diesel model is considerably more dynamic.
BRABUS ECO PowerXtra D4 tuning was developed for the C 250 BlueTEC model. It increases the power output of the common-rail turbodiesel engine from
standard 150 kW / 204 hp to 173 kW / 235 hp (201 to 232 bhp) and peak torque from 500 Nm to 550 Nm (368 to 405 lb-ft). This shortens the C 250
BlueTEC Wagon's sprint time from 0 to 100 km/h (62 mph) to 6.4 seconds. The top speed is 250 km/h (155 mph).
BRABUS stainless-steel quad sports exhaust systems are a factor in optimizing power delivery with or without engine tuning. What's more: they also
produce a sporty but never obtrusive exhaust note.
The BRABUS product program also has a host of refinement options to offer for the interior of the new Mercedes C-Class Wagon: it includes custom
accessories such as aluminum pedals, speedometers with scales up to 340 km/h (211 mph) and high-quality velour floor mats with BRABUS logo as well as
especially exclusive BRABUS fine leather interiors crafted from particularly soft and breathable leather and Alcantara."
[/showhide]