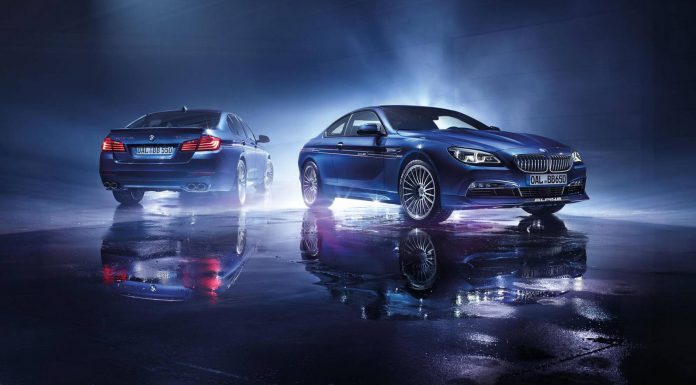 To celebrate the 50th anniversary of Alpina, the automaker has just revealed the Alpina B5 and B6 Bi-Turbo Edition 50 models. Just 50 units of each car will be created and they incorporate a number of changes over 'run-of-the-mill Alpina B5 and Alpina B6 models.
For starters, both the Alpina B5 Edition 50 and Alpina B6 Bi-Turbo Edition 50 utilise BMW's 4.4-litre twin-turbocharged V8 engine. However, power has been increased to 600 hp with torque also rising to 590 lb-ft. The additional power has been achieved through the fitment of new Alpina turbochargers located between the cylinder banks and delivering up to 1.2 bar of boost pressure.
Additionally, shorter air intakes are featured in the engines which also aid in improving throttle response markedly. Elsewhere, an improved intercooler finds its way into the engine bay of both Edition 50 models alongside a larger radiator. Lightweight pistons finish up the modifications to the 4.4-litre twin-turbo V8 engines.
A titanium exhaust system from Akrapovic is also featured with it weighing 17 kg less than an equivalent stainless steel system. An improved limited-slip differential also comes standard on both Edition 50 models.
Elsewhere, Alpina's Edition 50 models roll on a new set of Classic wheels. The new wheels feature side cuts in each spoke with each set of four wheels weighing 15.6 kg less than previously. Alongside the weight reduction, the wheels are actually slightly wider and measure 20×9 at the front and 20×10 at the rear. An Edition 50 logo adorns each set of wheels with the brake calipers also being painted in blue.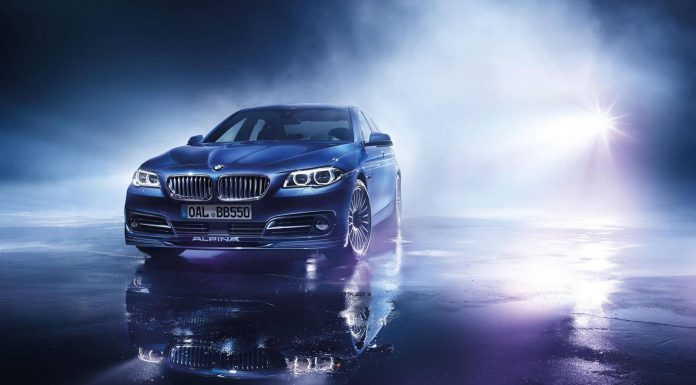 In the cabin, the car's feature black leather across the seats which is hand stitched alongside Forest Green quilting. A special '1965-2015' is then found on special metal emblems on the rear seats, carpets and the key ring.
Discussing the marque's 50th anniversary, Alpina chief executive Andreas Bovensiepen said "Alpina is a company that creates subtly stylish, very high performance cars that can be tailored to each customer's personal requirements, yet offer the long-term comfort and durability required for daily use. We have a unique philosophy and a commitment to engineering excellence that we intend to maintain and build on across the next 50 years."
[showhide]
"Bespoke car manufacturer ALPINA will create 50 remarkable saloons (or estates) and 50 similar coupes to celebrate the company's half century this year. Based on the B5 Bi-Turbo and the B6 Bi-Turbo respectively, each vehicle will include hand-crafted Edition 50 body and trim features and a remarkable, heavily revised V8 that will propel the luxury five seater from 0-100 km/h (62 mph) in 4.2 seconds and on to a top speed of 204 mph. ALPINA's fifty year heritage includes the creation of some of Europe's most highly-regarded luxury performance road cars and iconic race cars including the legendary BMW 3.0 CSL.
With an astonishing 800 Nm (590 lb-ft) and 441 kW (600 hp), Edition 50 is the most powerful road car ever developed by the German company. A notable testament to ALPINA's 70-strong engineering team is that this huge performance is combined with fuel economy (on the most representative combined cycle) of 29.7 mpg and best in-class CO2 emissions of 221 g/km.
"Edition 50 is the ultimate expression of the ALPINA values," explains ALPINA GB brand manager Matthew Stripling. "It combines very high levels of long-term comfort with superb performance that is available from low engine speeds, making it effortlessly fast. Add the deep base soundtrack and the feeling of bespoke luxury, and you have a highly engaging car that offers a unique set of attributes for the discerning enthusiast."
Based on BMW's proven 4.4 ltr V8, the B5 Bi-Turbo's heavily-revised engine uses two ALPINA-specific turbochargers located between the cylinder banks, operating in parallel, delivering up to 1.2 bar. Particular attention has been paid to air flow optimisation, with short intake paths and optimised radii to allow near-instantaneous throttle response. Charge density and thermal stability are further enhanced by a combination of large-volume air-cooled intercooler behind the bespoke front spoiler with two smaller, ALPINA-developed water-cooled intercoolers close coupled to the turbochargers. A large-capacity oil radiator and supplementary coolant radiator, also mounted behind the front spoiler, further improve thermal stability. Many other engine components have also been optimised for very high performance with long life, including new light-weight pistons designed to accommodate the high thermal loads of prolonged high-performance driving.
Compared with the standard B5 Bi-Turbo, further optimisation of the induction system, a high-capacity fuel system and other unique upgrades have released an additional 70 Nm (52 lb-ft) and 44 kW (60 hp) for the Edition 50 yet the car offers the same high levels of durability that would be expected from any ALPINA. Like all new ALPINAs, it will be supplied with a two year BMW-endorsed warranty.
The aerodynamics, transmission, handling, comfort, styling and weight have also received further attention. The cars feature the first major restyle of the ALPINA Classic wheel for more than a decade. Side cuts in each spoke combined with a design that takes advantage of the high strength that can be achieved with forging, has reduced the weight of each set of four wheels by 15.6 kg compared with the previous 20" design; a remarkable achievement considering the width has increased to 9" at the front and 10" at the rear. Each wheel carries the Edition 50 logo on the rim and provides a clear view of the ALPINA Blue brake callipers. The light-weight titanium exhaust system, developed with specialist supplier Acrapovic, improves throttle response by minimising back pressure and saves a further 17 kg compared with a stainless steel system. A limited slip differential is also standard, as are subtle aerodynamic enhancements developed in BMW's wind tunnel.
Inside, the Edition 50 can be specified with unique, hand-crafted sports seats in black leather with luxurious Forest Green quilting on the squab and backrest centre sections, complemented by yellow and black stitching. Trim panels are in ALPINA piano black with EDITION 50 and the signature of company founder Burkard Bovensiepen displayed in front of the passenger. A special '1965 – 2015' logo appears on metal emblems on the seat backs, in the carpets and on the key ring. Each car's limited edition number will be displayed on a production plaque on the centre console and also on the reverse of the keyring. A host of other luxury features include ceramic finish controls, a full leather instrument panel and two additional levels of optional interior leatherwork, created and fitted at ALPINA's saddlery. All of the bespoke, luxury features of the B5 Bi-Turbo are standard, including instruments in ALPINA Blue and a steering wheel covered in finest-quality, hand-stitched Lavalina leather.
Each car will be available in ALPINA Green or ALPINA Blue, or in a bespoke Edition 50 Sepia created by BMW Individual. ALPINA's iconic decal sets can be specified along the sides and on the front spoiler, in coordinating green or blue with Edition 50 lettering. Very small numbers will be available in the UK, with prices from £86,850.
50 years of bespoke cars
ALPINA Burkard Bovensiepen KG was established on the 1st of January 1965 in Kaufbeuren. Two years later it adopted the now-famouse badge featuring a twin-choke downdraught carburettor and a crankshaft on a shield; a proud symbol of the company's dedication to superb engineering.
Although today the company is focussed largely on road cars, its ethos has been formed by decades of racing success with a driver roster that includes Derek Bell, James Hunt, Jacky Ickx, Niki Lauda, Brian Muir and Hans Stuck. Throughout this time, the close relationship with BMW was developing, with factory support for road car development and collaboration in motorsport that included commissioning ALPINA to develop the light weight race car that became the now-legendary BMW 3.0 CSL.
In its 50th year, ALPINA is one of the world's leading manufacturers of high-performance luxury automobiles, selling on every continent yet still in numbers small enough to allow each car to be bespoke. Production reached 1,700 in 2014 – a new record – and there are currently no plans for significant growth beyond this.
"ALPINA is a company that creates subtly stylish, very high performance cars that can be tailored to each customer's personal requirements, yet offer the long-term comfort and durability required for daily use," comments CEO Andreas Bovensiepen, son of the company's founder Burkard Bovensiepen. "We have a unique philosophy and a commitment to engineering excellence that we intend to maintain and build on across the next 50 years.""
[/showhide]