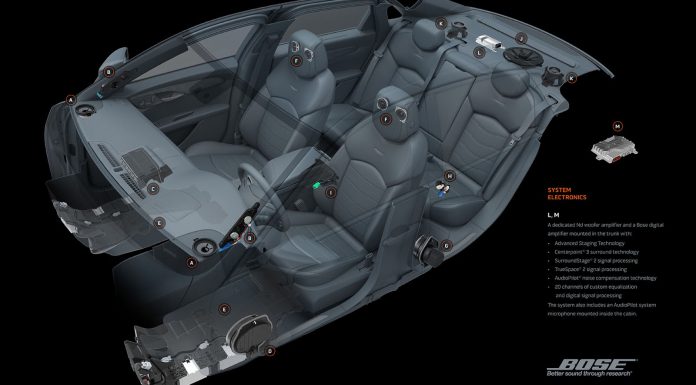 Prior to its unveiling at the New York Auto Show 2015 next week, an official rendering of the Cadillac CT6's interior has been released. The single image focuses on the advanced Bose surround-sound systems available for the CT6.
The top-of-the-range Bose sound system is dubbed the Panaray and it includes 34 speakers most of which are smaller than 4 inches in diameter. The Panaray system has been designed to provide deeper base and more clarity and precision than other car audio systems before it. Elsewhere, the Cadillac CT6 will be available with a 8-speaker Bose system and a 10-speaker Bose system.
Discussing the Panaray set up, vice president of Bose Automotive Systems Division Marc Mansell said "There are no short-cuts to this kind of performance. The Bose Panaray system uses a bold design architecture, and it was made possible by continuous, relentless research. That's how we established the category with Cadillac over three decades ago. We were obsessed with performance then, and we still are."
According to the CT6's executive chief engineer Travis Hester, "We asked Bose to create something truly special for this new vehicle: a sound system unbounded by limits, providing an audio experience that hasn't been matched in any other luxury automobile. Cadillac CT6 customers will be elated by what they hear and feel when they switch on the Bose Panaray system."
Beyond the speaker systems, we know that the Cadillac CT6 will be available with two different V6 engines as well as a turbocharged four-cylinder and a twin-turbo V8. The 3.6-litre V6 will deliver 335 hp and 284 lb-ft of torque while the twin-turbo 3.0-litre V6 will pump out 400 hp and 400 lb-ft.