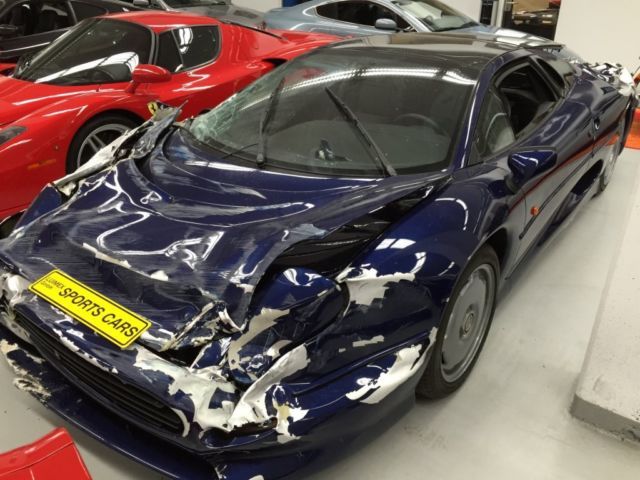 Images of a destroyed dark blue Jaguar XJ220 have emerged from Munich, Germany and show the British supercar a shell of its former self. The car is up for sale courtesy of German exotic car dealership Luimex for 199,980 euros having 12,536 km on the clock.
There are absolutely no details available surrounding the crash which this XJ220 has been involved in but the damage alone tells a very, very dark story. It seems possible that the car rolled as it features extensive damage across the bonnet and rear decklid but surprisingly, the roof seems to be relatively unscaved.
Elsewhere at the front, the bumper has been crushed with the pop-up headlights have clearly being destroyed by the impact. The passenger side of this Jaguar XJ220 has also sustained serious damage as has the back-half of the driver side.
It remains to be seen just who would purchase an XJ220 in such poor condition considering pristine examples have been known to sell at auction for just over 200,000 euros.
As a reminder, a mere 281 examples of the XJ220 reached customers. At the time of its launch, it was the world's fastest production car with a 342 km/h verified top speed.