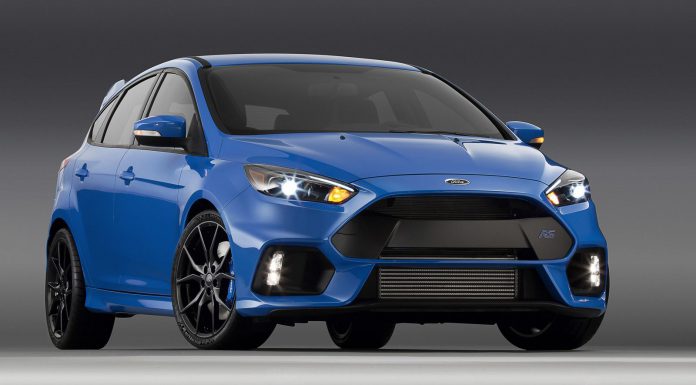 Following the 2016 Ford Focus RS celebrating its world debut at the Geneva Motor Show 2015, it has been confirmed that the new RS will make its North American debut at next week's New York Auto Show 2015.
Prior to New York however, Ford has revealed the new Focus RS in one of the four production available colours it can be finished in. By comparison, the original show car was shown in Liquid Blue which interestingly won't be offered for production models. In fact, the colours will include Nitrous Blue (pictured), Stealth Gray, Shadow Black and Frozen White.
Discussing the RS's impending North American launch, Ford group vice president of global product development Raj Nair said "Customers have begged for the Focus RS to come to the United States for years. And now we can say that they are getting one of the most innovative, powerful and best-looking RS cars ever. That is special. The RS line has a proud history of technical breakthroughs.
"It's a great example of our passion for innovation through performance, and creating vehicles that make people's hearts pound," Nair confirmed.
Powering the 2016 Ford Focus RS is of course a 2.3-litre turbocharged EcoBoost four-cylinder engine reportedly delivering 345 hp. Power is then sent through all four wheels with Dynamic Torque Vectoring also featuring. As a result, up to 70 per cent of the drive torque can be diverted to the rear axle and up to 100 per cent of the available torque at the rear axle can be sent to each rear wheel.