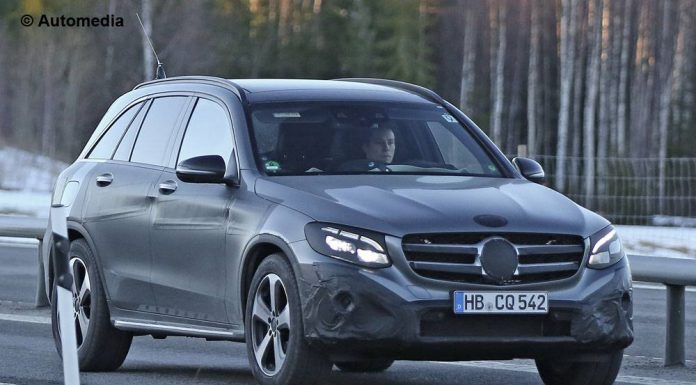 New reports have emerged suggesting that the recently spied Mercedes-Benz GLC SUV will be unveiled this coming June. The GLC will act as the replacement to the outgoing Mercedes-Benz GLK and is set to adopt a number of visual and mechanical modifications.
Generally speaking, the Mercedes-Benz GLC will be slightly larger in size than the GLK in an effort to further differentiate it from the compact GLA crossover. Additionally, indications suggest that the GLC will be underpinned by a mechanical package similar to the W205-generation C-Class meaning it will be made available in right-hand drive markets like the UK, Australia and Japan.
It remains to be confirmed if an AMG variant of the Mercedes-Benz GLC will be created but it is expected to be made available with a turbo 1.8-litre petrol four-cylinder and a turbo 2.1 litre four-cylinder diesel. The 1.8-litre is pinned to power the GLC250 while the 2.1-litre should be found in the GLC250 BlueTEC. Elsewhere, a petrol V6 will be offered in GLC350 guise while an AMG Sport variant also seems exceptionally likely to launch. The range-topping variant could come in the form of the AMG tuned version with it tipped to use a twin-turbocharged 4.0-litre V8 engine delivering 476 hp and 479 lb-ft of torque.
Visually speaking, the Mercedes-Benz GLC will be easy to distinguish from the GLK with a more curvaceous design as well as thoroughly overhauled front and rear fascias. The new rear-end for example will incorporate taillights similar to the Mercedes-Benz S-Class Coupe, GLE Coupe and C-Class Estate.