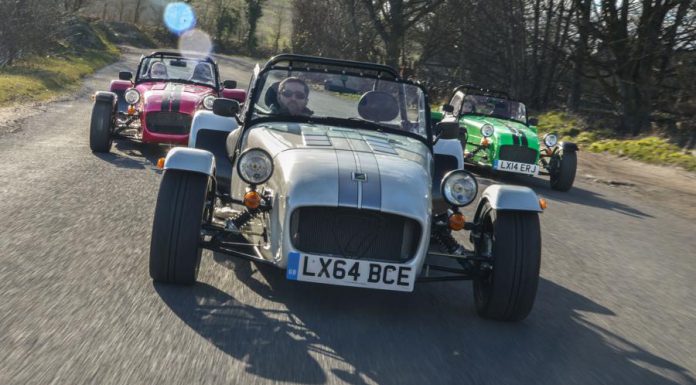 Caterham has just launched three additional variants of the stripped down Seven sports car with the unveiling of the Caterham Seven 270, 360 and 420. The new models join the 80 hp Caterham 160 and the 310 hp 620R in the Seven line-up.
Interestingly, the Caterham Seven 270 effectively replaces both the Roadsport 140 and Supersport. It is powered by a 1.6-litre Ford Sigma powerplant delivering a total of 135 hp. When combined with the minimal overall weight of the car, it can sprint to 100 km/h in a brisk 5 seconds as well as a 196 km/h top speed.
As for the Caterham Seven 360, it supersedes the Roadsport 175 and Supersport R and utilises a 2.0-litre Ford Duratec engine rated at 180 hp. Thanks to the additional power over the 270, the 360 hits 100 km/h in 4.8 seconds before maxing out at 209 km/h. Last but certainly not least is the Caterham Seven 420 with a 210 hp 2.0-litre Ford Duratec engine meaning it can hit 100 km/h in 4 seconds flat and a 218 km/h top speed.
Alongside revealing these three new versions, the 'S' and 'R' packages have been added to the Caterham range. The S package is focused towards the street and consequently includes road-biased suspension, a heater, windscreen, black leather seats and 14-inch alloy wheels. By comparison, the R package includes a limited-slip differential, four-point racing harnesses, sports suspension, 15-inch alloy wheels and composite racing seats.
Discussing the revised Caterham Seven range, the company's boss Graham Macdonald said "The Caterham brand has always had simplicity at its heart. While the pure thrill of driving remains at the core of our iconic Seven design, the experience of selecting and buying a Caterham is one that now reflects the brand's values of effortlessness and intuition."