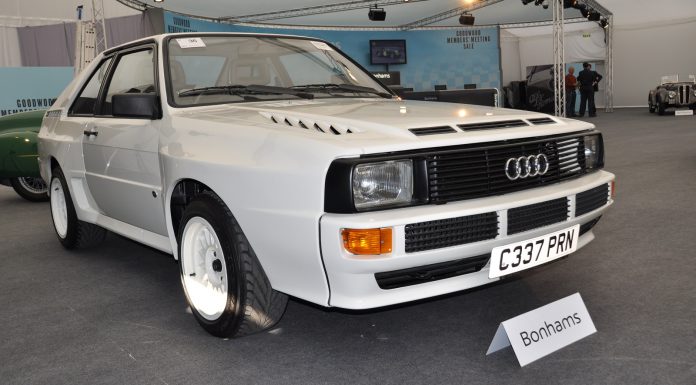 A new world record Audi Quattro hammer price of nearly 400,000 euros was set at Bonhams sale at the 73rd Goodwood Members Meeting sale as iconic 1980s sports cars showed their strength, reflecting the theme of the weekend's racers.
The immaculate but unpretentious 1985 three-owner Audi Quattro Sport SWB Coupé, with 26,000 miles on the clock, went for £287,100 (395,727 euros). Not the kind of money you might expect if following it in traffic!
That was over 50,000 euros more than the ex-works, Hannu Mikkola/Arne Hertz 1982 Audi Quattro A1 Group B rally car that won Mikkola the 1983 World Rally Championship. That car, seen below, sold for £253,480 (341,695 euros).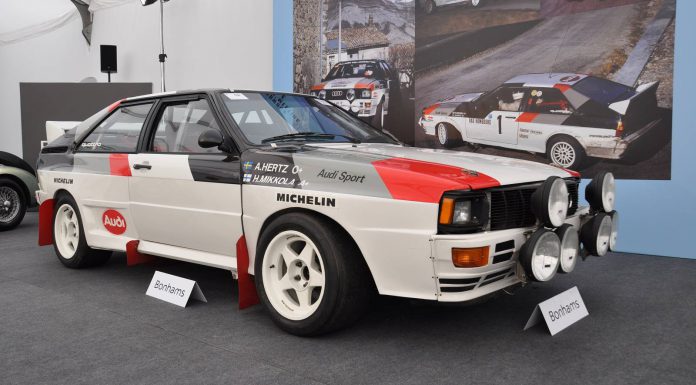 Another iconic rally car making good money but promising even better future returns was the ex-Pentti Airikkala, Roger Clark, Ari Vatanen, Björn Waldegård, David Sutton (Cars) Ltd, 1975 Ford Escort RS1800 Rally Car that sold for £85,500 (117,849 euros). While a 1983 Renault 5 Turbo (below) looked good at £60,860 (83,886 euros)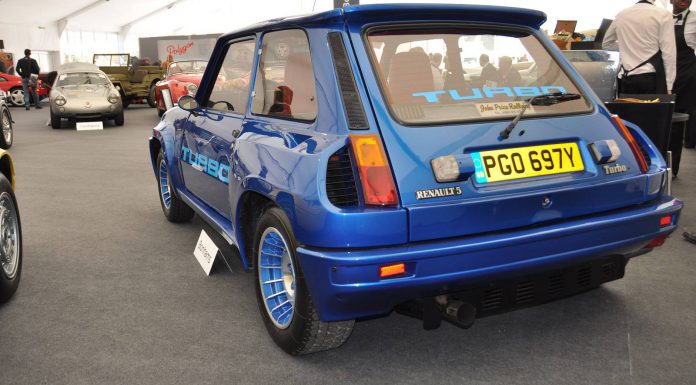 Top lot at this inaugural Members Meeting sale for Bonhams, who have staged sales at every Goodwood Festival of Speed and Goodwood Revival Meeting, was the ex-Kitty Maurice 1959 Frazer Nash Le Mans Coupé, pictured below, selling for £470,000 (696,760 euros)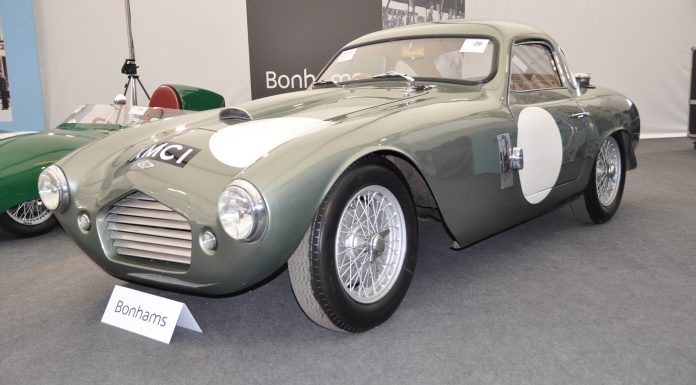 Other notable results included the 1953 Jaguar C-Type re-creation that topped the Mikkola Audi at £259,100 (357,133 euros) and the unique Pininfarina-bodied prototype 1968 Bentley T-Series 'Coupé Speziale', commissioned by Lord Hanson, which made £250,140 (344,782 euros).
Close behind was a 1959 Jaguar XK150S Roadster, selling for almost treble estimate at £225,500 (310,820 euros), and a 1961 Jaguar Series 1 Flat Floor Roadster sold for £158,300 (218,194 euros).
But restoration projects like the trio seen below also proved popular and right up in the top price brackets, with a 1962 Aston Martin DB4 Series IV Sports Saloon achieving £256,860 (354,045 euros) and 1966 Aston Martin DB6 Vantage selling for £194,140 (267,594 euros).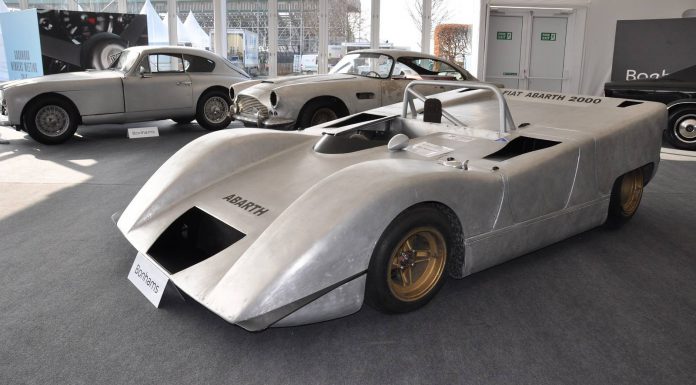 Another project attracting a bidding battle was a 1963 Porsche 356B Super 90 Coupé "barn find", soaring to double its estimate at £32,200 (44,383 euros) while an 1969 Abarth 2000 'Cuneo' show car (foreground, above) with random transmission parts showing, and no engine, trebled its estimate to go for £33,350 (45,968 euros).
James Knight, Bonhams International motoring director, said: "We have enjoyed offering some magnificent motor cars at both the Goodwood Festival of Speed and Revival Meetings over the past 20 years and we are thrilled to add the Members' Sale to this portfolio.
"We have offered a varied cross-section of motor cars, with tremendous interest expressed across the board. A noticeable demand for sports cars of the 1980s has been evident at our inaugural event, complementing the more modern cars competing at the meeting. This is a sale that will certainly grow."
Bonhams record breaking motoring department will host two further sales at the Goodwood estate in 2015: the Festival of Speed Sale (26 June) and the Revival Sale (12 September).