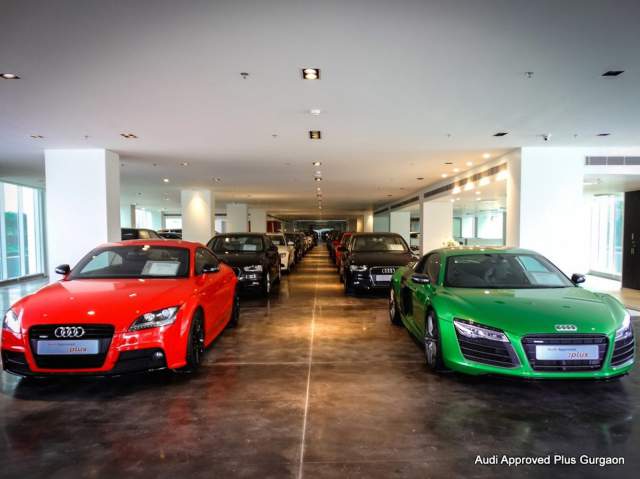 In December last year, Mercedes-Benz opened its first pre-owned luxury car showroom in India under the name of "Mercedes-Benz Certified".
Looking at the tremendous growth in the industry largely dominated by unorganised trade, Mercedes-Benz became the third luxury car manufacturer in India to open a showroom for used cars. The used car market in India is growing and luxury cars contribute to around three percent of the total sales. This means that their number stands at somewhere between 28,000 to 32,000 units per year.
Moreover, by the looks of it, this rate is expected to increase this year. Here's why.
Increasing Prices of New Cars
Consumers want to get a taste of luxury but premium cars don't come cheap in India owing to heavy excise duty and high rate of interests. As Eberhard Kern, CEO of Mercedes-Benz India once said, "In many car products (in India), over 50 percent of price is the taxes, which is unacceptable on the global level".
The Government reduced the excise duty on cars and automobile parts last year. Consequently, the car prices dropped for a few months before the concession was removed by the Ministry of Finance at the beginning of 2015. This came as a setback to the luxury automobile companies and they responded by hiking their prices.
BMW increased its prices by 5 per cent, while also discontinuing some its models like the 116i Prestige and the powerful six-cylinder 328i. Since the start of 2013, the company has been focusing on the deep pocket customers. As a result, their sales have dropped but the profits have increased by 10 times. Mercedes-Benz and Audi also increased their rates. Hence, many consumers may just prefer buying a well-maintained pre-owned luxury car than shell out extravagant sums for a new one.
High depreciation and good value for money
The value of luxury cars depreciates by up to 30 per cent in just six months. In about three to four years, well-maintained luxury cars are sold for one-third of their original price. One can buy a BMW 3-Series or a Mercedes C-Class for just INR 1.5 million. They won't have done much mileage and will be about three to four years old.
Most luxury cars are not used for daily driving, so they are in good condition and their quality is assured as they are built with better materials than the mass segment cars.
One realtor in Mumbai recently purchased a Lamborghini Gallardo, which had only done 3,000 kilometers for INR 25 million. A new one would have cost him INR 35 million. New cars are for the rich, while used cars are for the smart and prudent.
Growing supply
It's really easy to find a used luxury car in India as owners tend to change their cars within two to three years of purchase. There are certified and unauthorised car dealers all across the country. In many cases individual sellers take it to themselves to sell the car.
Websites like Carwale.com, OLX.in, Cartrade.com and Quikr.com help the buyers to find potential sellers. At present, Carwale.com alone has advertisements for 821 BMWs, 868 Mercedes-Benzes, 582 Audis, 75 Jaguars, 5 Ferraris, 74 Porsches, four Rolls Royces and 20 Bentleys. That's a remarkable number for one website in India.
Organised players have also entered the industry. BMW, Audi, Mercedes all have showrooms for second-hand luxury cars now. Mahindra's First Choice is another popular choice, while Big Boy Toyz, a company which primarily deals in "exotic cars" has a remarkable presence in the Indian market. The company reportedly sells around 80 cars annually.
Entry of organised players
Companies offer warranty, financial schemes and service plans on second hand cars that dealers and individual sellers can not.
In 2011, BMW launched "BMW Premium Collection" showrooms, catering the German automaker to "many new customers" in the country. Cars undergo a comprehensive check and are sold with a BMW warranty.
Audi has its own showrooms for pre-owned luxury cars which shelters automobiles from other brands as well (like Mercedes, BMW and Porsche). Here too, cars undergo a complete inspection before they are sold. The customers are "are assured of a transparent and hassle-free experience of buying and selling pre-owned vehicles". Big Boy Toyz even offer a buy-back agreement on cars to potential customers.
These companies demand a slightly higher price for the cars (than an individual seller or dealer), but they ensure a low cost of maintenance and less financial and legal hassles. Such services were not available in India till two years back.
Completely built-up units
Buying a used car works well in case of brands like Ferrari, Lamborghini, Rolls-Royce, Bentley, Porsche and Aston Martin, among others. Such cars are imported as Completely Built-up Units (CBU's) in India and hence a 100 per cent excise duty is paid on them. Consumers are reluctant to fork out so much money.
More than 100 such exotic cars have changed hands in India over the past two to three years. They have low mileage, are well-maintained and the buyers save up to 40 to 50 per cent on their purchase. Moreover, sellers get 10 to 20 per cent higher price for their cars.
The ones who really benefit are those who bought imported luxury cars a few years back when 60 per cent excise tax had to be paid.
According to The Economic Times, a Mumbai businessman bought a Lamborghini Gallardo for INR 2.9 crore a few years back. In a "normal course after depreciation", the value of the car in 2014 should have dropped to INR 1.74 crore, but he could got INR 2.51 crore from a buyer.
"I had sparsely used the vehicle for 1,400-1,500 kms and I got to know about the new Huracan and that seemed an interesting buy," he said.
"So, I sold off my Gallardo…It has been an advantage for anyone who bought a CBU around 2011-12 at older custom duty. I am very satisfied with the price I got."
 Conclusion 
Buying a second-hand luxury car requires less capital and with the involvement of organised players, the after-market expenses are also expected to fall. This makes the experience of owning premium car in India more affordable and 2015 will exhibit that.