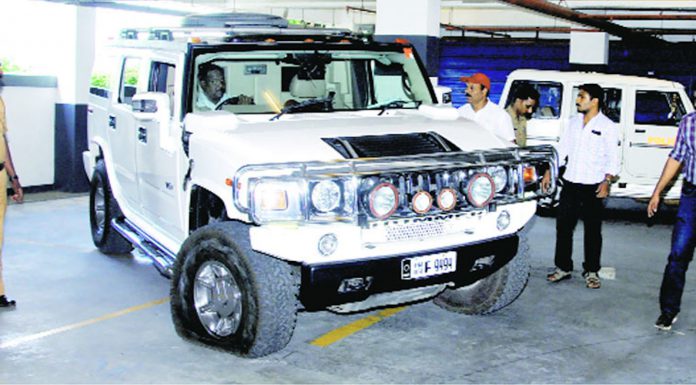 Indian tobacco tycoon Mohammed Nisham has been booked under the Kerala Antisocial Activities (Prevention) Act (KAAPA) by an advisory board constituted by the government.
Nisham was arrested in January after he rammed his security guard, K Chandrabose, with his Hummer. The two fell into some sort of an argument after Chandrabose and three other guards delayed in opening the gate of Nisham's sprawling estate in the South Indian state of Kerala on 28 January at around 3 am.
Nisham is first said to have physically assaulted Chandrabose before turning his massive Hummer onto the guard. The latter succumbed to his injuries two weeks later and Nisham is now facing murder charges. Under the KAAPA, he will remain in judicial custody for six months, during which he is not entitled for bail.
Nisham is the Managing Director of Kerala-based King Beedi Co. Apart from that, he is said to have investments in real estate and hotel and jewelry businesses in the Middle East. He is a habitual law-offender, with a total of 13 cases pending against him. Most of them are involving his vehicles.
The 38-year-old is a luxury-car enthusiast and his fleet of rides is said to be worth over INR 200 million. His garage consists of the Rolls-Royce Ghost, Hummer, Ferrari F430, Lamborghini Gallardo, Bentley Continental GT, Porsche Carrera GT, Aston Martin DB9, Audi A7, Mercedes E-Class and Range Rover Evoque, among others.
His fleet came into the public eye after he uploaded a video of his son driving the family's Ferrari F430 on a private road in Kerala in April 2013. Unlike the United Kingdom, it is illegal in India for minors to drive on private roads.
The visuals went viral on social media and drew a public outrage. Consequently, Nisham was arrested for endangering his son's life and allowing a minor to drive. However, he was later released on bail for an amount of INR 5,000 ($92). Shockingly enough, his wife defended the couple's decision to let their son drive the Ferrari.
[youtube]https://www.youtube.com/watch?v=3lFRsvweoXM[/youtube]
"I am proud of him. He's been driving since he was 5," Amal Nisham told TV channels.
"It was his ninth birthday, and since he was insisting for months, we allowed him to drive the Ferrari. He is a cautious and confident driver."
She also claimed that their son had previously driven their Lamborghini Gallardo and Bentley Continental GT. There is also another video of the kid, in which he is driving the Range Rover Evoque.
[youtube]https://www.youtube.com/watch?v=9inJBwXGN-E[/youtube]
The sight of his nine-year-old son driving cars worth thousands of dollars in a country which shelters one-third of the world's "extreme poor population" made Nisham a flashpoint for the media's growing resentment against the super-rich and their wild acts. Lack of action by the authorities raised the question whether the elite of the society are treated as above the law.
Later that year, Nisham got a notice from the customs office in Trichur. He has reportedly shipped some of his cars from Dubai and six of those came under the scrutiny of the customs for being under-valued. He was asked to submit the relevant documents to ascertain whether the purchases were in order.
The same week, the 38-year-old was caught driving his Rolls-Royce under the influence of alcohol. He misbehaved at the police station, arguing that there was no station in Kerala fit for his Rolls-Royce to be parked at. When a female police superintendent got into the car to take the keys in order to prevent Nisham from running away, the businessman, who was standing outside, locked the doors, thus trapping the officer.
Yet Nisham has always managed to escape punishment, which many claim is owing to his close association with top politicians and bureaucrats in the country. The cops are said to be shielding Nisham even during the Hummer case, as it was revealed that the blood-stained uniform of Chandrabose went missing earlier this month. Nisham has easily got away with his previous crimes and new evidence has recently emerged of him working together with high-ranking police officials in a 'bribery racket'.  The Opposition in the Kerala local assembly have demanded an investigation into the finances as the public outrage against the man grows.
Nisham has a Facebook page, where he goes by the name of 'Nisham King'. He also has a penchant for the number "777" as all his cars have registration numbers that end with "777".