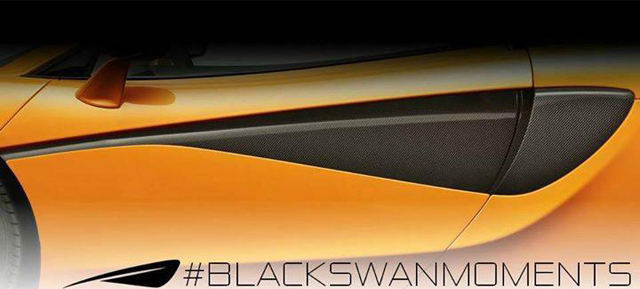 Another teaser image of the upcoming McLaren Sports Series has been revealed before the car's debut at next month's New York Auto Show 2015.
The new teaser shows that the McLaren Sports Series will feature uniquely shaped doors with an eye-catching side air intake bearing similarities to the P1's albeit on a smaller scale. Like the P1, it too appears to be finished in carbon fibre rather than being body coloured. When the car launches however, it is likely that it will be available in the same colour/shade as the rest of the exterior.
As we know, the McLaren Sports Series will use the firm's existing 3.8-litre twin-turbocharged V8 mated to a seven-speed dual-clutch 'box. Additionally, it will feature a redesigned variant of the carbon fibre Monocell from the 650S.
When the car initially launches, at least two different coupe variants will be produced. The entry-level variant will be dubbed the 'C' while the other will wear an 'S' badge. In both specifications, power will sit in the 500 hp mark to rival both the Porsche 911 Turbo and 911 Turbo S.
In terms of pricing, McLaren Automotive chief executive Mike Flewitt recently confirmed that the new British sports car will be aimed squarely at the 911 Turbo and Turbo S duo.