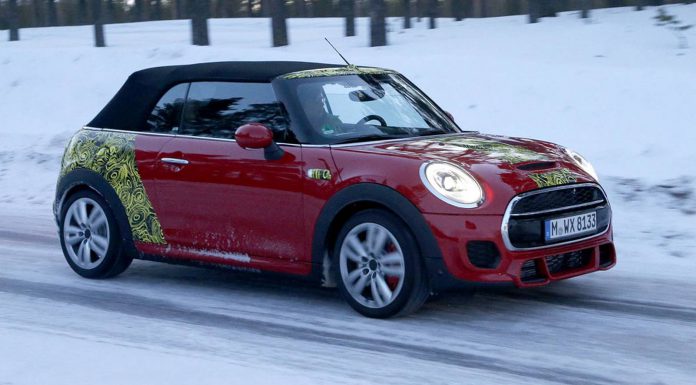 At January's Detroit Motor Show 2015, the potent new Mini Cooper JCW (John Cooper Works) was introduced. Now Mini Cooper JCW Cabriolet spy shots have emerged of the drop-top variant in the midst of winter testing.
As with the hardtop, the Mini Cooper JCW Cabriolet will feature a BMW-sourced turbocharged four-cylinder 2.0-litre engine delivering 228 hp. Consequently, it will be able to sprint to 100 km/h in a brisk 5.9 seconds as well as a top speed of 246 km/h.
Beyond the potent engine, the Mini Cooper JCW Cabriolet will utilise sports-tuned suspension, beefed up brakes shared with the JCW hardtop as well as an electronic differential.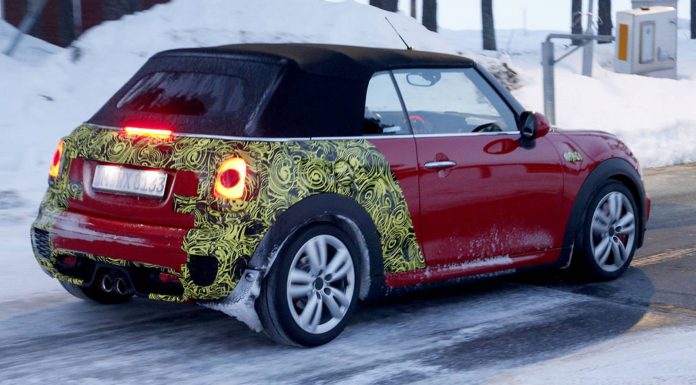 From a visual standpoint, all the new elements of the JCW hardtop will be featured on the cabriolet. With that in mind, the front fascia evidently features an enlarged grille as well as bigger air intakes. Additionally, LED headlights will be featured alongside a different rear diffuser and special 17-inch alloy wheels.
It remains to be seen when the Mini Cooper JCW Cabriolet will be released but it could arrive before the end of the year.