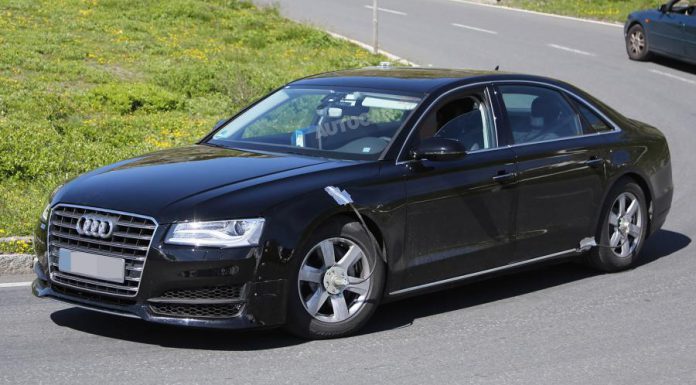 On the back of previous reports suggesting that the next-generation Audi A8 was set to launch next year, it has emerged that the reveal has been pushed back by one year as the German marque aims to perfect the car's semi-autonomous driving technologies.
It remains to be seen just how advanced the semi-autonomous tech for the Audi A8 will be but Autocar understands that it will be capable of piloted driving. Additionally, some reports indicate that it will be able to drive itself at speeds of up to 60 km/h while also being capable of finding and parking on its own accord and without assistance from the driver. It is believed that Audi wants to spend more time developing the electronic architecture for the German luxury sedan before announcing yet alone revealing the car.
Elsewhere, we know that the next-generation Audi A8 will be the first production Audi designed entirely from scratch by new head of design Marc Lichte. Much of the car's design will be drawn from the Audi Prologue Concept unveiled at the Los Angeles Auto Show 2014.
Discussing this late last year, Audi technical chief Ulrich Hackenberg said, "I gave Marc his first job of designing the new A8, and the Prologue concept is a trailer for that. This concept is the next step of Audi design. The new A8 will launch by the end of 2016.
"The next A6 and A7 will also have this look. In the A8, there will be a lot of features from the Prologue. The face and the interior in particular; I'm not a fan of concept cars that are too spectacular, so that's why you'll see so much of this design in the new cars."
[Via Autocar]