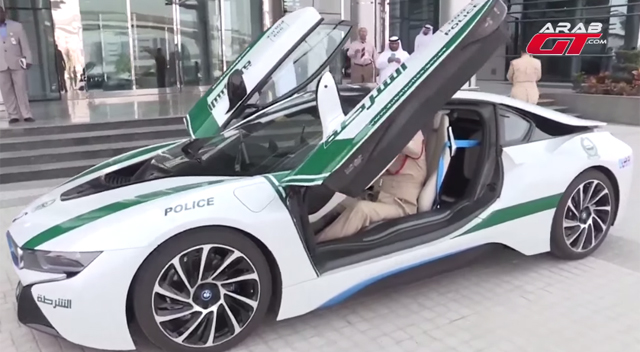 Another day and yet another car has been added to the ever-expanding sports car fleet of the Dubai Police. The latest car added is the brand new BMW i8 hybrid sports car and as with all the vehicle's owned by the Dubai Police, it features a livery combining white and dark green.
[youtube]https://www.youtube.com/watch?v=KADwoROPeYE[/youtube]
For most police departments around the world, a BMW i8 patrol car would be the ultimate. For the Dubai Police however, it is nothing. As a matter of fact, they already have cars like an Aston Martin One-77, Bugatti Veyron, McLaren 12C, Ferrari FF, Nissan GT-R, Lamborghini Aventador, Audi R8 V10 and many more used for promotional purposes throughout the city.
As a reminder, the BMW i8 uses a brand new three-cylinder petrol engine with BMW TwinPower Turbo technology. From 1.5 litres, the i8 manages an output of 231 hp and 320 Nm of torque. Power is sent to the rear wheels via a six-speed automatic gearbox. The petrol engine is supplemented by an electric motor with an output of 131 hp and maximum torque of 250 Nm.