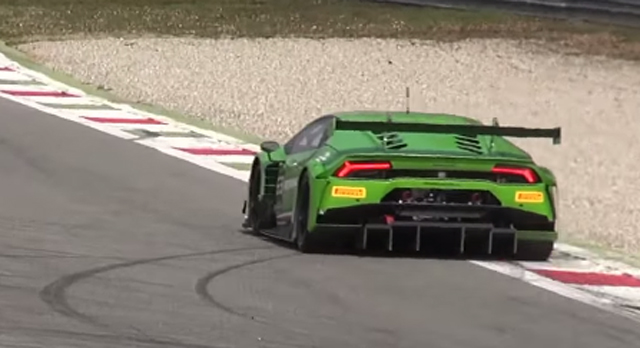 Prior to its racing debut in Europe's Blancpain Endurance Series, a private test day for the Lamborghini Huracan GT3 was recently held at Italy's famous Monza circuit. The following video provides us with our first chance to hear the Huracan GT3 completely unadulterated and at full speed on a racetrack and unsurprisingly, it sounds truly spectacular!
[youtube]https://www.youtube.com/watch?v=PO2otD6P1b4[/youtube]
In case you didn't know, the Lamborghini Huracán GT3 will line up in the five-round Blancpain Endurance Series in Europe including Spa-Francorchamps 24-hour race, while the new Huracán LP 620-2 Super Trofeo will feature in the Lamborghini Blancpain Super Trofeo in Europe, Asia and North America from this year.
The rear-wheel drive Huracán GT3 has an aluminium-carbon chassis and kerb weight of 1,239 Kg with 42/58 front/rear weight distribution. The composite bodywork and aerodynamics have been developed with Dallara Engineering. It has the V10 direct injection engine of the road car, managed by a Bosch Motorsport control unit, with sequential six-speed gearbox and three-disc racing clutch.
The Austrian Grasser Racing Team will run two new Huracán GT3s in the 2015 Blancpain Endurance Series with the two official test drivers of Lamborghini Squadra Corse, Fabio Babini (ITA) and Adrian Zaugg (RSA) now promoted to factory drivers.