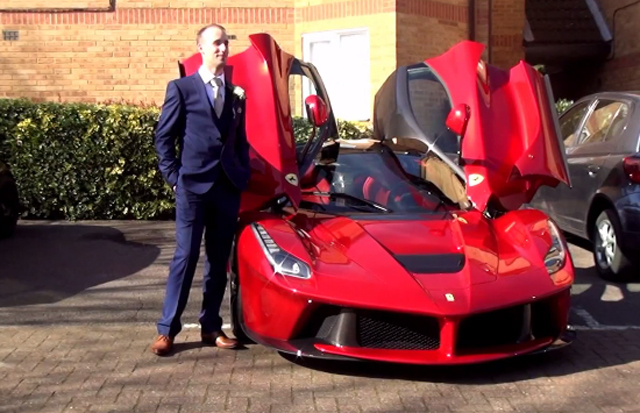 Our good friend Paul Wallace from supercarsoflondon recently attended a friend's wedding where Paul Bailey's truly incredible Ferrari LaFerrari acted as the wedding car for the very lucky groom. Despite having only just taken delivery of the Italian hybrid hypercar, Bailey was more than happy to chauffer the groom to the wedding in true supercar enthusiast style!
[youtube]https://www.youtube.com/watch?v=WIeysRolCZA[/youtube]
As you surely know by now, the LaFerrari gets a 6.3-litre V12 which is connected to an electric motor similar to the system on the McLaren P1. The Ferrari F150 V12 has an output of 789 hp at 9000 rpm and 700 Nm at 7000 rpm while its electric motor has a maximum output of 161 hp and 270 Nm of torque. That delivers a total combined power output of 950 hp.
Let us know in the comments below what your perfect wedding car would be!