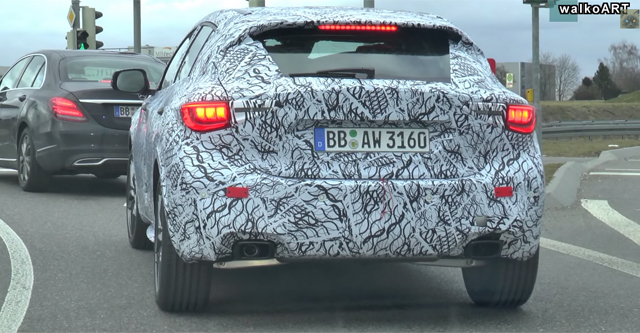 On the back of the Infiniti QX30 Concept debuting at the Geneva Motor Show 2015, a production-spec variant has been spied testing under heavy camouflage in Stuttgart, Germany.
Despite the black and white camouflage adorning this Infiniti QX30, it is clear that the same overall shape of the concept will be used by the production car. Additionally, dual exiting exhaust tips can be seen alongside complete LED taillights.
[youtube]https://www.youtube.com/watch?v=-xytKXJlmWE&t=18[/youtube]
Infiniti says the production version goes on line next year in its push into the global premium compact segment, forecast for significant growth with younger affluent customers. Infiniti first signalled plans for this sector with the Q30 Concept shown in Frankfurt in 2013. The QX30 Concept is part of an aggressive strategy unashamedly targeting China and Europe while expanding established markets such as the United States.
Discussing the concept, Infiniti president and chief executive Roland Krueger said, "The vehicle embodies our conviction to give customers the freedom to go wherever they want, whenever they want – in a style that turns heads and makes a statement, in a way that expresses their individualized character."