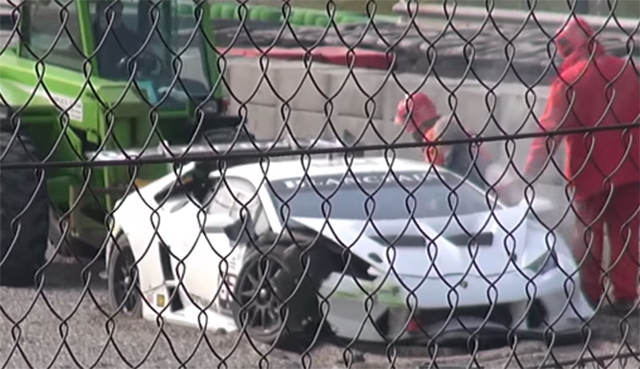 A white Lamborghini Huracan LP620-2 Super Trofeo has crashed heavily during a private test day at Italy's Monza circuit.
As the following video shows, the racing variant of the mid-engined Huracan crashed into the wall after the driver locked up the brakes heading into the Ascari chicane. The car then pulls dramatically to the left before the tail kicks out and sends the Huracan Super Trofeo straight into the wall at high speed.
[youtube]https://www.youtube.com/watch?v=SJjAZWOGfmc[/youtube]
Unsurprisingly, the crash caused some serious damage but fortunately the driver managed to emerge unhurt. As for the damage suffered to the Huracan, the front-end has been trashed and the front right wheel has also seen better days. Based on the brunt of the impact, it is likely that some mechanical damage has also been sustained but it looks repairable.
As a reminder, the Huracan Super Trofeo is rear-wheel drive and also a touch more power than the road-going car. As a matter of fact, it now has 611 hp instead of the 602 hp of the standard model. Of more importance however, is the fact that it is rear-wheel drive.
The car was co-developed by Dallara Engineering and when speaking about it, Lamborghini's research and development boss Maurizio Reggiani said, "The Huracán Super Trofeo is an all-new car built from scratch with a clear racing concept. We believe it will be as fun for fans to watch as it will be rewarding for our racers to drive."