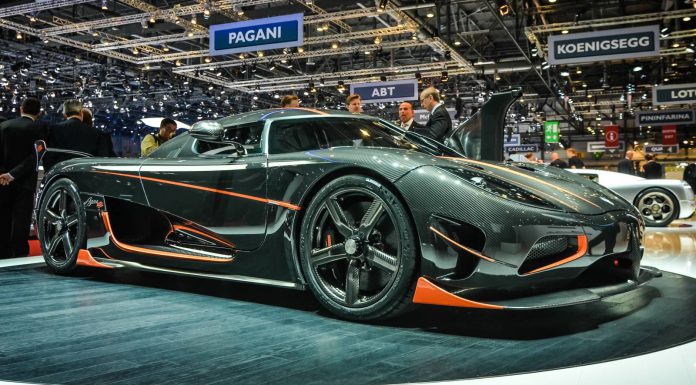 Hot off the respective world premieres of the Koenigsegg Agera RS and Regera at the Geneva Motor Show 2015, the Swedish manufacturer's boss, Christian von Koenigsegg, has revealed that a four-door Koenigsegg could arrive in the future.
When pressed by Top Gear about the possibility of such a car, Koenigsegg said, ""Yes, I can imagine a car like that. Maybe within the next five years, possibly earlier than that." Other than that small snippet, Koenigsegg didn't reveal anything further about a potential four-door model but did confirm that the marque won't move down market and create a rival to the McLaren 650S, Porsche 911 or the brand new Ferrari 488 GTB.
Discussing this he said, ""To me, in the last few years, that sector – the 911, the McLaren, the Ferrari 458 etc – is a hornet's nest which I want to stay well away from. Everyone is trying to kill each other. I'm happy way out here, away from that in my little blue ocean. I'm not interested in getting into that fight," he said.
On a technology front, the small Swedish marque is still trying to develop an internal combustion engine with no camshafts. Christian von Koenigsegg has been developing the engine for almost 14 years and for the last few years, has employed a group of eight engineers working full time in its development.
Discussing what could prove to be a breakthrough leap in engine design, von Koenigsegg said "The reason you have a four-valve cylinder head instead of a two-valve is so it can breathe freely on high rpm for more power, but that's counteracting your efforts at low rpm, because you get less speed through bigger ports and less turbulence and poorer distribution.
The first thing is to shut off two valves. Then if you get rid of the throttle body – because you can throttle with the valves – you can open them a little or a lot, you get better response than butterflies on an intake tract, because you're in the combustion engine.
"Thirdly you can shut off cylinders completely like Audi is doing, but you don't have to choose just two to do it. And fourth, you can have any valve timing you want – a diesel-like character, or an F1-type character because you have no restriction whatsoever in cam profile," he said.
Put briefly, the future is looking very bright and exceptionally advanced for Koenigsegg!
[Via Top Gear]