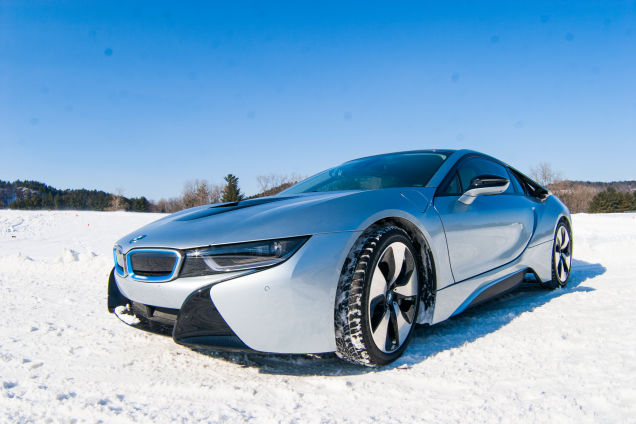 There is no denying that the BMW i8 is one of the most talked-about cars to come out of BMW in quite some time. But will it drift on a snow covered race track?
The folks at Jalopnik were able to get some seat time in a i8, taking the hybrid sportscar to an autocross event on the snow-covered grounds of Lime Rock Park. While many have extolled the virtues of the i8's handling, many have criticised its inability to drift at will.
[youtube]https://www.youtube.com/watch?v=ah5j5DRMPPE[/youtube]
On snow, with the traction control off, the i8 becomes a drifting machine. Jalopnik's Travis Okulski reported: "Most of the time it feels rear-wheel drive, with the 1.5 litre inline-three sending all its power out back. But if you get into an oversteery moment and put your foot down further, the front wheels start to go too, which makes for a car with changeable handling characteristics."
The the i8 has a plug-in hybrid powertrain that includes a 1.5-litre three-cylinder TwinPower Turbo engine driving the rear wheels and electric motor driving the front wheels, with lithium-ion battery with 2.5-hour total recharge time. Total output from all power systems is 362 PS (266 kW). The sprint to 96 km/h comes up in just 4.4 seconds on the way to a top speed of 250 km/h.
[via Jalopnik]