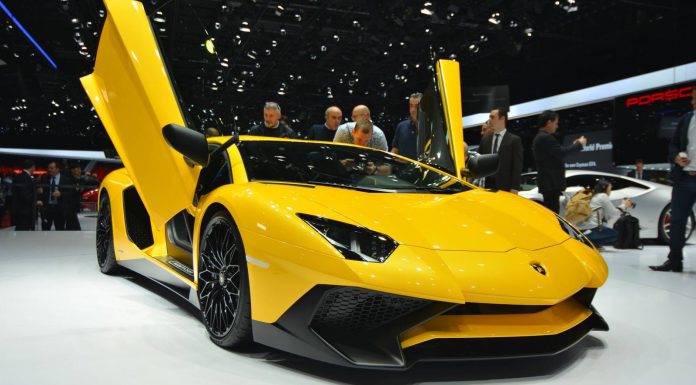 The Geneva Motor Show 2015 proved to be a particularly important show for Lamborghini with it hosting the world premiere of the Lamborghini Aventador LP750-4 SV and while the SV certainly stole the show, there were other highlights from Lamborghini at Geneva 2015.
For example, the Lamborghini Aventador Pirelli Edition also celebrated its debut at the Geneva Motor Show 2015. It is available as both a coupe and Roadster with production set to be extremely limited and deliveries pinned to start in the middle of the year. Differentiating the Lamborghini Aventador Pirelli Edition from run-of-the-mill Aventador models are a number of unique elements. For example, the roof, pillars, wing mirrors, engine cover, front, rear and side air intakes are finished in matte black.
Standard equipment on the Lamborghini Aventador Pirelli Edition includes a transparent engine cover, gloss black Dione wheels measuring 20-inch at the front and 21-inch at the rear. Additionally, red brake calipers come standard but if the car is ordered in Lamborghini's popular shade of red, Rosso Mars, the calipers are painted yellow.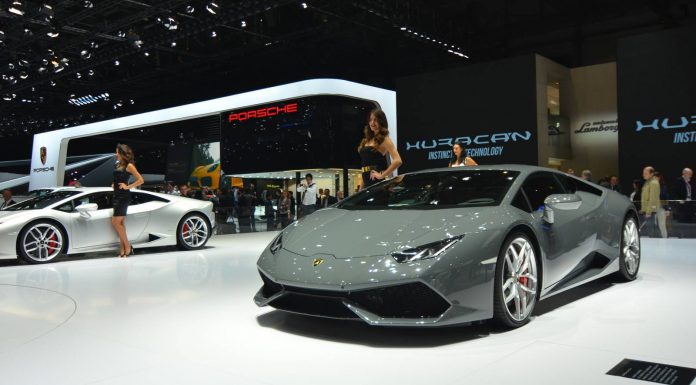 A couple of Lamborghini Huracans were also put on display at the Italian marque's Geneva 2015 booth but of course, all were overshadowed by the Aventador LP750-4 SV. Its 6.5-litre V12 engine gets a modest power boost of 50 hp together with a weight reduction of 50 kg. The top speed is now 350 km/h and the 0-100 km/h time drops from 2.9 seconds to 2.8 seconds. Torque remains at 507 lb-ft at 5,500 rpm and peak rpm rises to 8,500 rpm.
The aforementioned weight reduction is achieved through the use of carbon fibre for parts including the engine bay cover, rear wing, wing panels, interior door panels, bucket sports seats and air intakes. Carpets and noise insulation have also been taken out, as has the multimedia system which can be put back in at no extra cost.