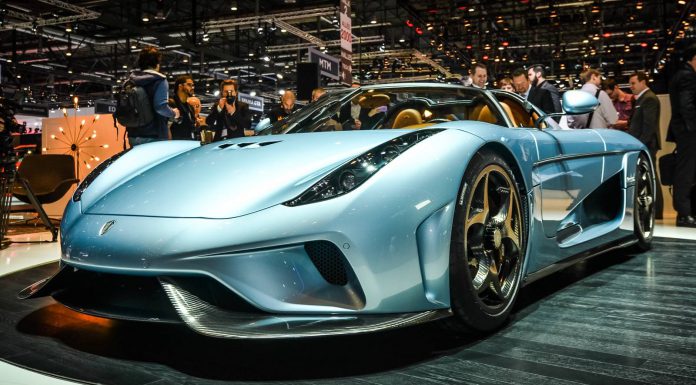 The Geneva Motor Show 2015 is proving to be truly exceptional with a plethora of brand new sports cars, supercars, hypercars and luxury cars debuting at the show. For those that weren't able to attend however, here you can watch the press reveals and conference of Christian von Koenigsegg alongside the release of the Koenigsegg Agera RS and Koenigsegg Regera.
At any normal show, the Koenigsegg Agera RS would have stolen the stage and really sent heads-spinning. However, it was the Regera that captured the attention of onlookers and in the following video you can hear von Koenigsegg talking about some of the incredible pieces of technology which make up the hybrid Regera.
[youtube]https://www.youtube.com/watch?v=m7CPIQS7ezU&t=684[/youtube]
If you didn't know, Koenigsegg's bespoke dry-sump twin turbo, DOHC 5.0 litre V8 provides the bulk of the power for the Regera where it delivers 1100 hp. It is coupled to three YASA developed electric motors, one for each rear wheel (260 Nm's each) and one at the crankshaft (300 Nm's) providing torque vectoring, regenerative breaking and torque fill. The motor also fulfils the starter motor function.
Incredibly, the Regera features the Koenigsegg Direct Drive Transmission or KDD for short. The KDD system replaces the combustion engine's traditional transmission, reducing drivetrain losses and providing seamless power to the rear wheels.
[youtube]https://www.youtube.com/watch?v=us6L4Svxlgc&t=272[/youtube]
The battery pack and power distribution for the KDD were developed and manufactured in cooperation with Mate Rimac and his engineering team. The battery is a 620 volt, liquid cooled pack with 9,27 kWh of energy, 67 liters of volume and weighing in at just 115 kg of weight. 500 kW can momentarily be drawn during acceleration and over 150 kW can be absorbed by the battery-pack during regenerative braking.