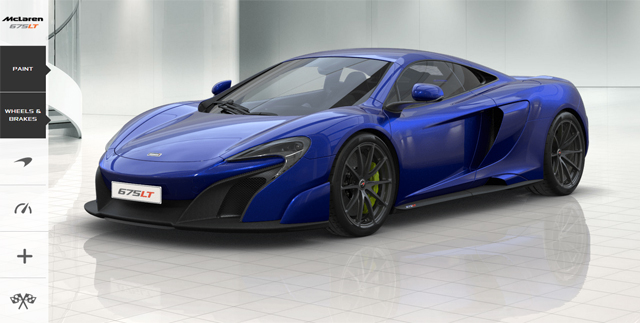 On the back of the McLaren 675LT launching at the Geneva Motor Show 2015, the official online configurator for the British supercar has just gone live. As we've come to expect from McLaren configurators, it is extremely detailed and comprehensive and certainly an enjoyable way to spend a few minutes!
In total, 16 different colours and shades can be selected in the McLaren 675LT configurator ranging from Mantis Green through to Volcano Red and Pearl White. Two different wheel options are also available; the super-lightweight forged wheels as well as the ultra-lightweight forged ones. The former can be finished in silver, stealth black or gloss black with a machine finish with the latter wheels are offered in silver and stealth black.
A number of different exterior components can also be customised in the configurator including the wing mirror casings and door latches.
In case you didn't know, the McLaren 675 LT gets the familiar 3.8-litre twin-turbo V8 engine, although 50 percent of the package is new. McLaren have fitted new, more efficient turbos, made changes to the design of the cylinder heads and exhaust manifolds, fitted a new camshaft and lightweight connecting rods, and developed a faster-flowing fuel pump and delivery system.
The McLaren 675 LT gets its name, not from the changes to the mechanics, but rather from the exterior style. On the outside, there is a new front bumper with a new front spoiler and carbon fibre end plates. The rear is also redesigned, although not quite so dramatically as the F1 Longtail was. It gets an active 'Longtail' Airbrake, a new rear bumper and a different diffuser.