Startech have unveiled a Jaguar F-Type R Coupe at the Geneva Motor Show 2015. The German tuning company (an offshoot of well-known Mercedes-Benx tuner Brabus) have a white example of the British sports car on display at their stand. Startech focus on tuning Jaguar Land Rover products which means that the Startech Jaguar F-Type R Coupe sits together with its Land Rover siblings. We took a close look at the F-Type on display.
The Startech Jaguar F-Type R Coupe has been fitted with a number of visual components including a new carbon fibre rear diffuser finished with clear gloss and body-coloured paint. Startech have aslo fitted a new side skirt with an upturned carbon fibre blade, a new full-length fender vent and a new front spoiler lip with carbon side plates to complete the look.
Details are thin on the ground at the moment, however, it does look as though Startech have extended their program to the interior. The inside looks to have received quilted leather for the headliner, seat inserts and the door inserts. The rest of the interior appears to have been clad in brown with a red accent quilted leather applied to the footwell and a contrast red stiching worked into the cabin. The steering wheel appears to have been reupholstered too with a new look and grip.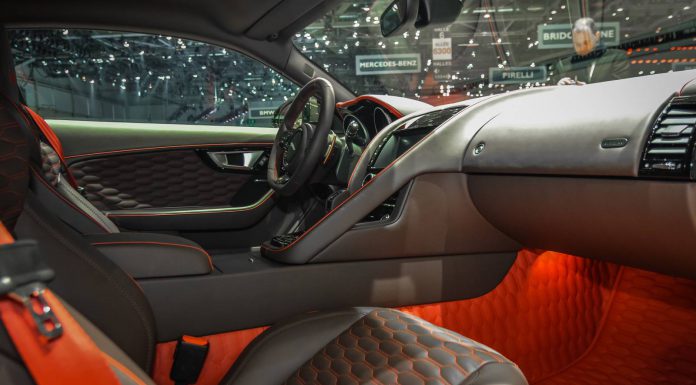 For more details on the Startech Jaguar F-Type R Coupe, take a look at our earlier article. For all the latest from the Geneva Motor Show 2015, take a look at our dedicated news feed or follow us on Facebook, Twitter, Instagram or Google+.