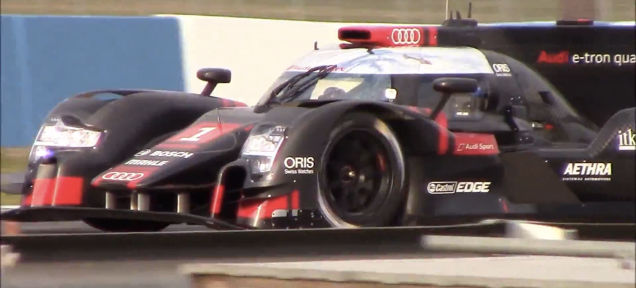 While Le Mans may still be three months away, Audi have already begun testing their new R18 e-tron Quattro.
Spy video shot at Sebring International Raceway in Florida provides us with the first sight of what Audi's latest Le Mans challenger looks like in the flesh. While the bodywork seen on the R18 will undoubtedly change between now and the 24-hour endurance classic in June, it is immediately clear that Audi has made a multitude of aerodynamic changes for their 2015 campaign.
[youtube]https://www.youtube.com/watch?v=V5d4Cs044dc[/youtube]
The most obvious changes include a more complicated, aggressive front nose design. Flanking the nose are smaller, more rectangular headlights and a handful of winglets and aero modifiers above the front splitter. While F1 may be a completely different world to Le Mans, Audi's latest LMP1 cars are beginning to look more and more like F1 wrapped in a Le Mans skin.
From the brief glimpses in the video it appears as though the rear wing and engine bodywork remain somewhat unchanged from last year's car.
We will undoubtedly see more and more of Audi's new Le Mans racer in the lead up to the WEC season. Until then, check out the video above!