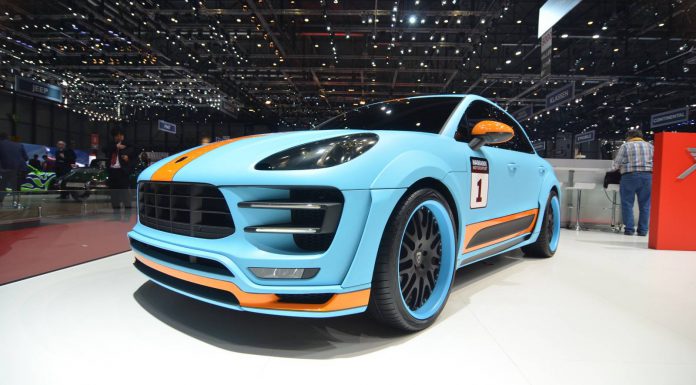 Hamann have a wide body version of the Porsche Macan on display at the Geneva Motor Show 2015. This is Hamann's first attempt at a comprehensive bodykit for the new Porsche. We took a closer look at the car on Hamann's stand.
The Hamann Porsche Macan features a wide body kit including a new front splitter, wider fender arches, new side skirts, a rear tailgate spoiler, a rear roof spoiler and a new diffuser. Unique touches include smoked front headlights and the stunning Gulf Oil livery!
A variety of different wheels are available for the Porsche Macan including anodized Edition Race, Anniversary EVO, Unique Forged, Anniversary EVO Black, and Anniversary EVO Hyper Black. This car wears a set of Edition Race wheels finished with Gulf Blue inner walls to match the paintwork.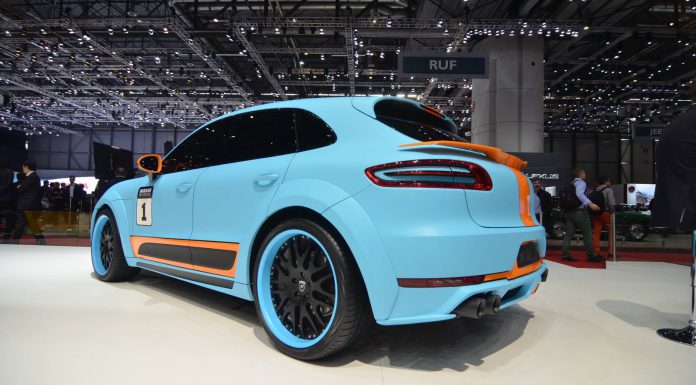 Underneath, the show car is really just a Porsche Macan S Diesel. It gets a 3.0 litre V6 turbo diesel with a peak 254 bhp at between 4,000–4,250 rpm and 580 Nm at 1,750–2,500 rpm. It remains to be seen whether the Hamann Porsche Macan Widebody will improve upon the serial car's 230 km/h (143 mph) top speed.

For all the latest from the Geneva Motor Show 2015, take a look at our dedicated news feed or follow us on Facebook, Twitter, Instagram or Google+.