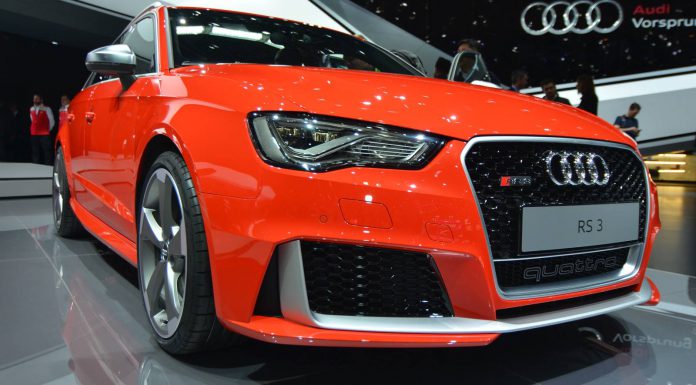 The Geneva Motor Show 2015 is underway and we have seen the official unveiling of the 2015 Audi RS3 Sportback. The first RS3 was brilliant but had its flaws, Audi have promised to iron out such kinks with this, the second generation.
First and foremost, the new Audi RS3 Sportback features a 2.5-litre TFSI five-cylinder engine delivering a total of 367 hp as well as 343 lb-ft of torque. As a result, the RS3 Sportback accelerates to 100 km/h in a very brisk 4.3 seconds as well as a top speed of 280 km/h (174 mph) upon request from the customer. Typically the top speed sits at 250 km/h (155 mph). Despite the potent performance provided by this engine, the 2015 Audi RS3 Sportback sips just 8.1-litres per kilometre with CO2 emissions of 189 grams per kilometre.
[Gallery=]
These figures come courtesy of a upgraded five cylinder engine that has been mated to a much improved seven-speed S tronic transmission which shifts faster than in the outgoing car. This transmission then funnel powers into all four wheels via Audi's staple quattro system with torque vectoring also designed to provide maximum driver enjoyment and involvement. Through the revised drive systems, the tail of the latest RS3 Sportback can be kicked out through corners or alternatively, it can be steered directly into corners to maintain its composure throughout a turn.

The 2015 Audi RS3 Sportback features aluminium suspension components at the front axle. Compared to the A3 Sportback, the RS3 rides 25 mm lower and Audi's magnetic ride adaptive damper control system is available as an option. The wheels use measure 19-inch at all four corners with 235/35 tyres at all four corners but wider 255 section front tyres can be ordered. The vast majority of the braking power is then provided with truly massive eight-piston calipers at the front axle with 370 mm discs while 310 mm discs are found at the rear. Carbon ceramic brakes are also available for track day drivers.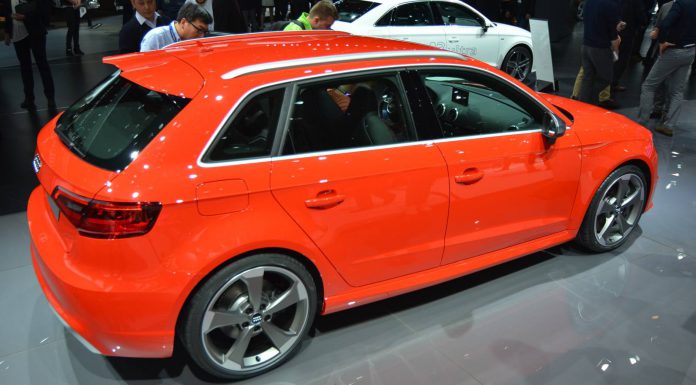 The 2015 Audi RS3 Sportback tips the scales at 1520 kg and is immediately identifiable from the outgoing car from a styling standpoint as it is based on the latest generation RS3. Consequently, the headlights have been tweaked as has the single frame Audi grille, the air intakes and air intake surrounds as well as the lower portion of the bumper. Elsewhere, new wheels have been fitted while a roof spoiler has been installed as has a new diffuser and typical twin-tailpipe setup, something that was absent from the previous iteration.
For all the latest from the Geneva Motor Show 2015, take a look at our dedicated news feed or follow us on Facebook, Twitter, Instagram or Google+.