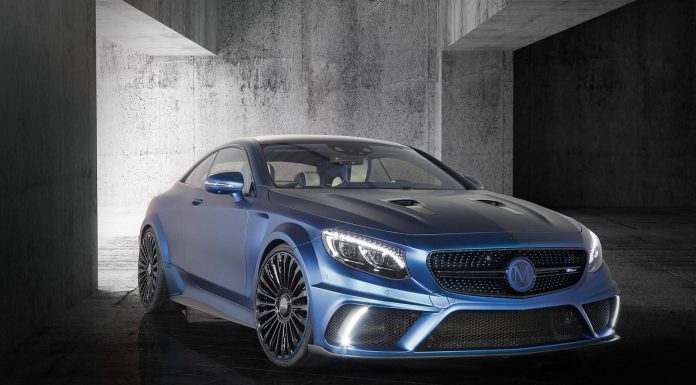 Aftermarket tuners Mansory have surprised at the Geneva Motor Show 2015 with the release of their Mercedes-Benz S63 AMG Coupe Diamond Edition. As we've come to expect from Mansory, their S63 AMG Coupe Diamond Edition is easily distinguishable from the 'standard' car through its implementation of a number of visual and mechanical modifications and upgrades.
For starters, the Mansory Mercedes-Benz S63 AMG Coupe Diamond Edition is finished in an eye-catching shade of matte blue and has been adorned with an aggressive widebody kit which adds an extra sense of purpose and panache to the German super-coupe. For example, the Mansory bodykit adds a fresh front fascia which incorporates a new bumper, refreshed lower air intake mesh and new vertical LED daytime running lights in the air intakes. Additionally, the Mansory Diamond Edition includes a Mansory badge up front as well as a revised bonnet incorporating two small air intakes.
Elsewhere, the Mansory Mercedes-Benz S63 AMG Coupe Diamond Edition has been fitted with flared wheel arches as the name of the car suggests. Alongside the flared arches 22-inch black wheels shod in 255/30 and 295/25 rubber at the front and back respectively. These wheels feature a tightly-spoked design and are unlike many of the other wheel options offered by Mansory for the plethora of vehicles it offers upgrade packages for. To show off the range of wheels offered by Mansory, the driver side of the Diamond Edition features different black wheels with a more traditional twin-five spoke design.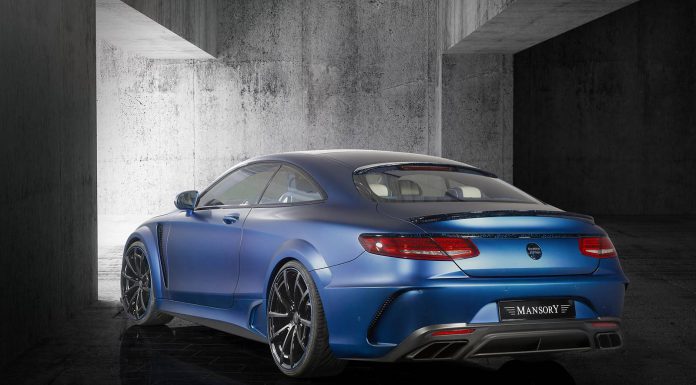 Alongside the new wheels and wheel arches, the Mansory Mercedes-Benz S63 AMG Coupe Diamond Edition features lowered side skirts. The rear end of the car is then characterised by a subtle bootlid lip spoiler, a new bumper, different diffuser as well as quad exhaust pipes. Completing the changes is a thoroughly refreshed interior with this display car for Geneva featuring light blue leather across the seats, door panels, transmission tunnel, dashboard and floors. White leather is also featured across the steering wheel, dash, seats and centre console.
Beyond all the visual changes are the mechanical ones and the Mansory Diamond Edition certainly isn't shy of them either. With that in mind, the twin-turbocharged 5.5-litre V8 engine of the S63 AMG Coupe has been uprated from 577 hp and 664 lb-ft of torque to a LaFerrari-beating 972 hp and 1032 lb-ft. As a result of this, it will hit 100 km/h in just 3.2 seconds as well as an electronically governed top speed of 300 km/h.

For all the latest from the Geneva Motor Show 2015, take a look at our dedicated news feed or follow us on Facebook, Twitter, Instagram or Google+.