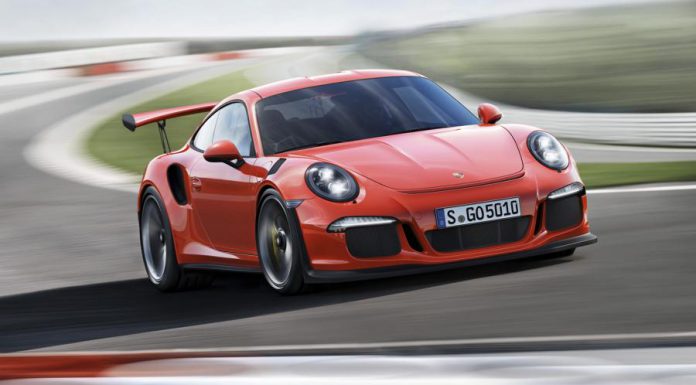 The covers have just been taken off the eagerly anticipated 2016 Porsche 911 GT3 RS at the Geneva Motor Show 2015 which kicked off today. The 991-generation Porsche 911 GT3 RS features a host of mechanical, visual and aerodynamic modifications over the 'standard' 911 GT3 and promises to be the most capable 911 ever on the track.
As speculated, the 2016 Porsche 911 GT3 RS uses a brand new 4.0-litre six-cylinder engine which remains naturally aspirated. It has been tuned to deliver 493 hp (the same as the 997 GT3 RS 4.0) but now delivers 384 lb-ft of torque which is 15 lb-ft more than the GT3 RS 4.0. Additionally, these figures represent a 25 hp and 60 lb-ft increase over the current 911 GT3.
As always, the new Porsche 911 GT3 RS features rear wheel drive and the aforementioned six-cylinder engine is coupled to a seven-speed dual-clutch PDK transmission. When combined with an advanced torque vectoring system and a variable locking differential, Porsche claims the new 911 GT3 RS will lap the famous Nurburgring Nordschleife in 7 minutes and 20 seconds. Alongside that 'Green Hell' time, the 2016 Porsche 911 GT3 RS will accelerate to 100 km/h in a mere 3.3 seconds and crack the 200 km/h mark in just 10.9 seconds. By comparison, the old 911 GT3 RS needed 3.9 seconds to hit 100 km/h.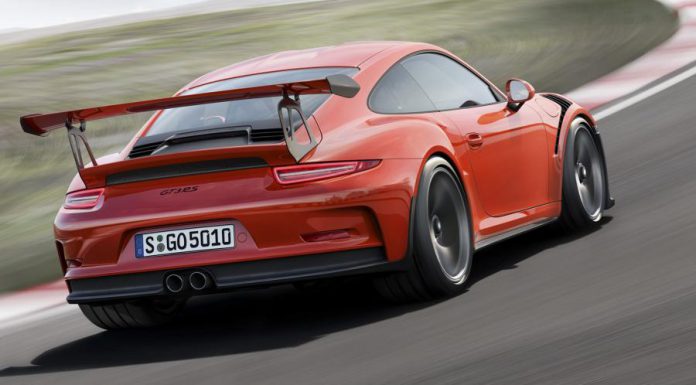 All told, the new 911 GT3 RS tips the scales at 1420 kg which is 10 kg less than the 911 GT3 despite all the additional components adopted by the GT3 RS. For example, a more prominent front splitter has now been installed alongside an absolutely towering rear wing designed to provide maximum downforce in all conditions whether on the street or on the track. Elsewhere, the 2016 Porsche 911 GT3 RS adopts a magnesium roof as well as a bonnet and boot created from carbon fibre reinforced plastic. The total 1420 kg kerb weight results in 347 hp per tonne.
Another interesting element of the new Porsche 911 GT3 RS are the new side air intakes reminiscent of Porsche 911 Turbo and Turbo S models.