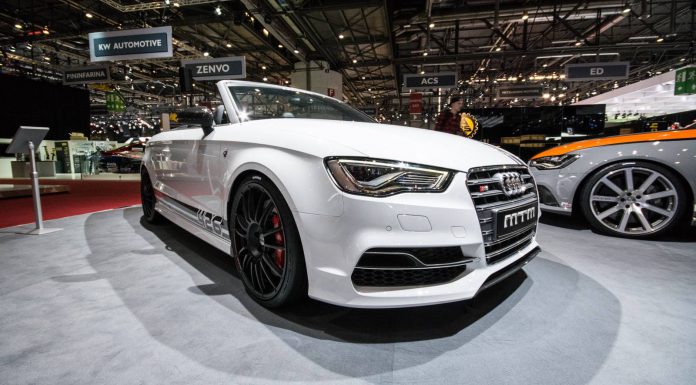 The Geneva Motor Show 2015 is underway and the MTM Audi S3 Cabriolet has been unveiled. The German tuners have been tinkering with the car and not for the first time. In 2014 they brought us an upgraded version of the S3 but this is their most potent attempt yet.
The latest MTM iteration takes the cars standard power from 296 horsepower (300 ps) to a staggering 420 horsepower (426 ps). This power comes from a relatively modest 2-liter TFSI 4-cylinder engine under the bonnet. This boost in power means that the MTM Audi S3 Cabriolet will accelerate from 0-100 km/h in just 4.9 seconds, down from 5.7 seconds when the car is factory fresh.
How is this all achieved? Well MTM did not just do a basic ECU upgrade but increased the size of the turbo and a new exhaust system to handle to emissions. The changes are not simply under the skin. Inside there are new carbon fibre backs to the diver and passenger seats. The use of carbon continues in on the sporty steering wheel and wing mirror caps.

Other exterior aesthetic changes have been made. In typical MTM fashion there are a choice of two wheel designs. The ubiquitous Bimoto wheels and motorsport inspired Nardo wheels. These can be specced in both 18 and 19-inches.The package in its entirely looks brilliant with the changes adding come much needed aggression to the very capable Audi S3 Cabriolet package. The execution and quality of all the aforementioned parts make this one of the best aftermarket S3 packages we have seen to date. The colour combination on the display car at the show was particularly alluring with the 426 livery.
For all the latest from the Geneva Motor Show 2015, take a look at our dedicated news feed or follow us on Facebook, Twitter, Instagram or Google+.