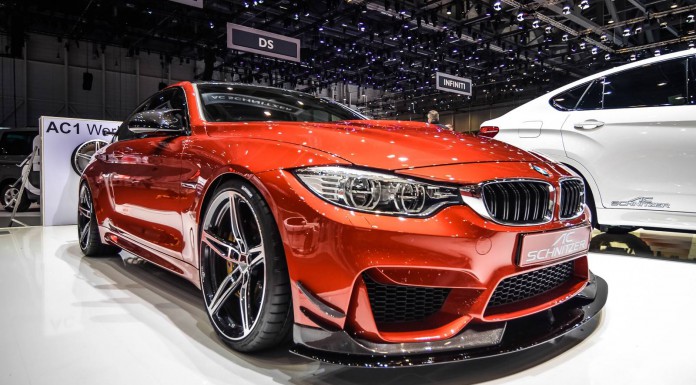 At the Geneva Motor Show 2015, the AC Schnitzer BMW M4 has been released. The tuner offers a plethora of tuning upgrades over the standard M4 Coupe and intrigued by this, we headed in for a closer look.
For starters, AC Schnitzer offers a performance upgrade for the German sedan which sees power boosted from 431 hp to 510 hp with torque increasing from 550 to 645 Nm. That additional power has been achieved through the installation of an additional control unit for the engine. Additionally, AC Schnitzer offers a race exhaust for the M4 complete with valve control to customise the sound of the exhaust.
Elsewhere, the tuner offers a lowering spring kit for the BMW M4 which drops the car by between 25 and 30 mm at the front as well as 10-15 mm at the rear. Alternatively, buyers can opt for a full coilover kit which is fully adjustable and can lower the ride height by 30-40 mm at the front and 30 mm at the rear.
Beyond these mechanical modifications, a host of aerodynamic and unique visual elements can be fitted to the AC Schnitzer BMW M4. One of the most eye-catching elements is the carbon fibre rear diffuser as well as the towering carbon rear wing which is available in two different variants both for the road and for the racetrack. Elsewhere, a subtle roof spoiler has been installed with carbon mirror covers also available.
A number of different wheels are also available for the AC Schnitzer BMW M4. The wheels vary from 19, 20 and 21-inch sizes and each feature a unique design as well as different finishes. Completing the optional upgrades for the BMW M4 from AC Schnitzer are a number of interior elements including an aluminium pedal set and foot rests, new gear knob, custom floor mats and an aluminium cover for the iDrive controller.

For all the latest from the Geneva Motor Show 2015, take a look at our dedicated news feed or follow us on Facebook, Twitter, Instagram or Google+.