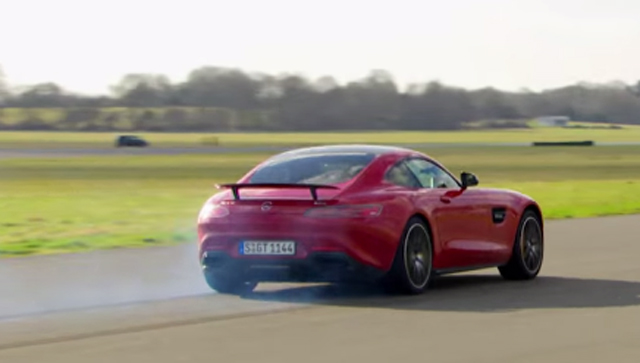 During Top Gear Season 22 Episode 5 last week, the brand new Mercedes-AMG GT S was featured prominently throughout the show. Now the clip of the AMG GT S's lap around the Top Gear Test Track has been released with it combining a number of exterior shots with onboard footage from the lap.
[youtube]https://www.youtube.com/watch?v=v16gIp0_tVs[/youtube]
For those that didn't watch Top Gear Season 22 Episode 5, the Mercedes-AMG GT S managed to record an impressive 1 minute 17.5 second lap time. While that is over 2 seconds slower than the Lamborghini Huracan featured the previous week, such a time does put the Mercedes-AMG GT S above the Noble M600 and Ferrari Enzo and rather incredibly, 1.5 seconds in front of the Mercedes-Benz SLS AMG Black. That last result is especially eyebrow-raising because the SLS AMG Black delivers 622 hp and 635 Nm of torque from its 6.2-litre naturally-aspirated V8 engine.
By comparison, the 4.0-litre twin-turbocharged V8 of the Mercedes-AMG GT S pumps out 510 hp and 650 Nm while tipping the scales at 1540 kg.
GTspirit Review of Mercedes-AMG GT S