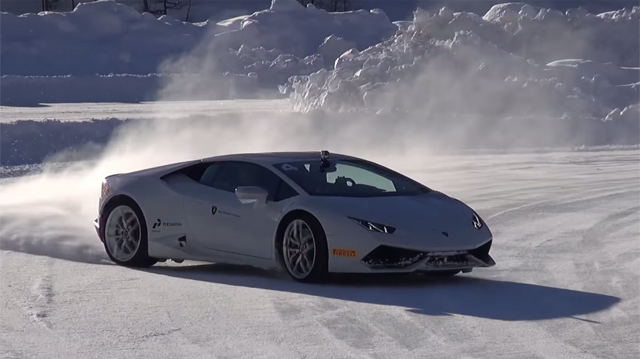 Late last month, the Lamborghini Winter Accademia program headed to Livigno in Italy and the firm's very best models including the Aventador (but mainly the Huracan) hit the snow racetracks at high speed and as the following video shows, were able to perform seemingly endless drifts and donuts.
Already this year, the Lamborghini Winter Accademia has headed to Nagano, Japan for the very first time in January as well as Aspen in Colorado in February.
[youtube]https://www.youtube.com/watch?v=nMRiQGLVyC4#t=112[/youtube]
While the Lamborghini winter driving events have wrapped up for the year, a number of other experiences are offered by Lamborghini. For example, the Accademia program will head to numerous racetracks around the world include the Yas Marina circuit in Abu Dhabi, the Circuit of the Americas in Texas as well as Malaysia's Sepang Formula One circuit. Elsewhere, the Lamborghini Esperienza program has been previously detailed for 2015 with it heading to four continents with over 20 events planned across Europe, North America, Asia and Australia.
Lamborghini Winter Academy in Aspen

While discussing the programs late last year, Lamborghini's motorsport coordinator Giorgio Sanna said, "We are very pleased to extend our Accademia and Esperienza program so significantly this year. It is proof of the growing interest in Lamborghini's super sports cars, among existing and potential customers from all over the world. These courses offer all participants, whatever their driving experience and their familiarity with Lamborghini, to enjoy our brand and experience our cars."